Old Céline Bags Are Now Being Auctioned & They're About To Get Even More Expensive
Caroline McCredie/Getty Images Entertainment/Getty Images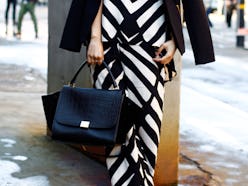 Though it's been nearly a year since Phoebe Philo announced her departure from luxury womenswear brand Céline (now Celine), it seems as though it was only yesterday. And after Hedi Slimane presented his first (controversial) collection for the brand, waves of fashion lovers around the world mourned the era of Céline where Philo reigned supreme. This seismic shift, without a doubt, sent everyone into a frenzy to get their hands on a piece from any collection that was created under Philo's name, as well as spawned a newfound nostalgia for what the minimalist brand once was (often referred to as Old Céline). Though it seems nearly impossible to get a Philo-era Céline piece (for a relatively affordable price, of course), Christie's is currently auctioning off two Old Céline bags as part of their current Online Handbags & Accessories sale, and they won't be at this price for much longer.
If you haven't had the chance to get a piece of the brand from the past for your own collection, or have been waiting for the right moment, you won't want to pass up on this sale from the luxury auction house. From now until Dec. 4, you can bid on this Tan Leather & Suede Trapeze Bag or this Brown Ponyhair & Black Leather Trapeze Bag, which both start at $1,000. That said, this is an auction, which means they're about to get so much more expensive, so if you're hoping to take a piece of Old Céline home, be sure to jump on them fast.
As part of the timeless handbags created by Philo, you won't find a more iconic item that speaks to the Old Céline era. And, when you consider the quality and the practicality of these Trapeze bags, you know you'll wear be using them for years beyond compare, making these purses easily worth investing in.
During her time at the helm of the designer brand, Philo had a way of designing for the modern working woman, creating beautiful silhouettes for the trend-curious while still remaining classic above all else. These bags are no exception to the rule; take them with you everywhere you go, whether it's to the office or on your weekend errand runs. Not to mention, with the neutral hues and the warm tones of these purses, they'll go with virtually everything in your closet no matter the season, taking them a step up from your standard leather tote bag.
Though Slimane took this past fall to show the world that Celine is not and will not be what we have come to know — the Phoebe Philo era of the brand continues to live on as fashion enthusiasts keep the memory of the brand alive. If you find yourself among those who yearn for the Philo days of Old Céline, keep scrolling to see the two bags you can get from Christie's auction this month, and then place a bid to make one of them your own.