18 Under-$10 Stocking Stuffers To Grab The Next Time You're At Target
Target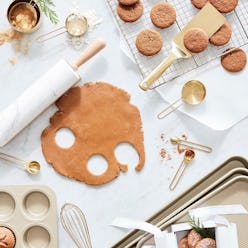 With the holiday season quickly approaching, it's time to start thinking about what you'll be giving to all the loved ones in your life — that is, if you haven't done so yet. Sure, you might already be mapping out your plans for Black Friday and Cyber Monday, getting in on those major deals for the gift your S.O. has been eyeing for the past year. However, in the flurry of anticipation, the smaller gifts are the ones that often go overlooked. Not to worry: Target's cheap stocking stuffers will be the perfect addition to your gift haul, and for under $10, they can't be beat.
There's a reason Target has gained the reputation of being everyone's favorite one-stop shop. Time after time, you go in with the intention of buying one thing, and ultimately come out with five more. For the same reason, it's become the perfect place to get those smaller gifts for everyone on your list, whether it's for your parents, your little sister, or your best friends. That said, considering the massive number of products there are at the store, it's also easy to become overwhelmed. If you find yourself at a loss for what to buy for each person, narrowing it down will make the process that much easier.
When it comes to shopping for stocking stuffers, there are a few things that anyone can appreciate. Of course, your friends and family are not all the same, which means their gifts won't be, either. When it comes to your parents, simple gifts will be treasured. For the mother who loves to be pampered, a new bottle of Essie Nail Polish, $8.79, will be a small gift she'll love pulling out of her stocking. Opt for a neutral color like Ballet Slippers to give her a shade she'll want to wear every day. Then, drop this Threshold Bottle Opener into your father's stocking; it'll be a timeless staple on the kitchen or on the bar cart.
Shopping for your siblings, on the other hand, is an entirely separate task. Gift your brother a pair of headphones such as these Skullcandy Jib Earbuds for $5.99 to keep on him for moments at the gym or the morning commute — he'll quickly realize just how much he needed them. For your sister, this DesignWorks Ink Lined Journal will be the perfect thing for her to write down all of her thoughts, and only costs 6.99.
Of course, you can't forget the ones outside of your family, either. If your significant other loves to read, they're bound to love a set of these Hearth & Hand with Magnolia Metal Page Markers. And, nothing will be better a better gift for your friends like this Rejuvenating Gold Foil Sheet Mask from My Spa Life; you'll want to spend a day together relaxing with these on.
Now, keep scrolling to see more affordable stocking stuffers to shop from Target this season.
Mother
Father
Sister
Brother
Significant Other
Friend