These Are Hands Down The Best Coat Deals From This Season's Post-Holiday Sales
Zara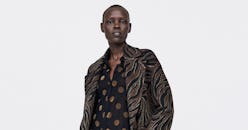 Though the holiday season may have officially ended with New Year's Eve, the spirit of giving is still in the air — and some of your favorite retailers still aren't quite finished with it yet. Sure, Christmas has already passed, and 2019 has officially arrived, but that hasn't stopped brands from marking down women's winter coats under $100. Whether or not you've already recovered from the pre-holiday shopping frenzy, these sales won't last for much longer. So, if you've been meaning to add another option (or two) to your winter coat rotation, this is the best time to do it.
The dead of winter may seem like an odd time to invest in something such as a heavy coat. In a short number of months — which you know will go by at an unimaginable rate — the spring season will be on the horizon. That said, the days working up to transitional weather and a rise in temperatures will not be without their fair share of cold fronts or snow storms. So as you continue to layer up in your coziest layers, you might as well upgrade your outerwear game while you're at it.
From practical puffers to timeless longline trenches, when it comes to the (occasionally brutal) winter months, you can never have too many coats. On top of that, thanks to the number of varying styles, you'll have an outer layer to wear for any occasion, whether it's your daily commute or a black tie soirée — these coats will have you covered, literally. Wear an effortless and cool down jacket like the Blake Puffer from Aritzia, which will keep you warm without weighing you down and is on sale for $70. Need the perfect coat to wear with everything you own? You'll want to add this Structured Wool Coat from Mango, $89.99, into your wardrobe, stat.
If you have a formal occasion to attend this winter, a faux-fur coat, such as this $79.99 Faux Fur Coat made by Zara, will look as luxurious as it feels. Not to mention, it'll take your ensemble to the next level in an instant. Just in case faux-fur isn't really your thing, this Animal Print Coat, also made by Zara, will provide the same effect without as much texture.
Now, scroll down to shop more winter coats from your favorite brands' holiday sales. Without a doubt, you'll want to wear them well beyond the remaining weeks of winter this year.
Aritzia
Uniqlo
Mango
Zara
Topshop