Last-Minute Gift Ideas For The Men In Your Life Who Are As Stylish As You
Melodie Jeng/Getty Images Entertainment/Getty Images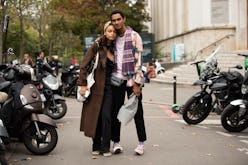 At times it can seem like the men in your life are more difficult to shop for than anyone else — especially if you're shopping for someone with a distinct sense of style. For this very reason you probably waited until the last minute to secure a present and are scrambling to find something that your loved one will genuinely enjoy. But rather than panic, check out TZR's list of last-minute gift ideas ahead that the fashionable men in your life will happily incorporate into their daily wardrobe.
A good rule of thumb is to stick to classic pieces in neutral tones that can be worn multiple different ways to a number of varying occasions. And ultimately, you'll want to find something creative enough to ensure your man doesn't already own it. but is still timeless to ensure it can remain in his lineup for years to come. From leather boots and jackets to knit sweaters and sleek bags, the range of pieces on this list should at the very least get your wheels turning regardless of your man's personal style.
So, as you search for holiday gifts, consider this roundup of last-minute gift ideas to help you check off even the hardest guys to shop for on your list.