14 Pumpkin Spice Beauty Products That Won't Make You Roll Your Eyes
Savor Beauty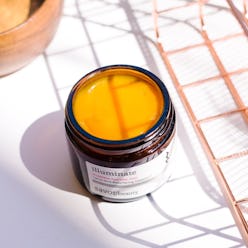 There are two types of people in the world: those who refer to the period of time between September and December as "fall," and those who (correctly) refer to it as "Pumpkin Spice Latte season." I fall into the latter camp, as do the brands bringing you these 14 glorious pumpkin spice beauty products — from pumpkin seed oil skincare, to pumpkin-inspired polish, to pumpkin ingestibles that are actually good for your skin (no shade, PSL).
As a self-professed Pumpkin Spice Latte expert — I've been sippin' PSLs since Starbucks debuted the OG version 16 years ago — I have to say, the standout of the season is Medlie's Pumpkin Spice with Collagen Veggie Drink. The bottled smoothie might not be as sweet as a latte, but it does come with some pretty sweet beauty benefits. "Pumpkin is highly nutritious in general, and has particularly notable levels of vitamin A, which is essential in preventing and repairing damage to your skin," Jen Berliner, the brand's CEO, tells The Zoe Report. She notes the ingredient is also rich in antioxidants like alpha-carotene and beta-carotene, which help fight free radicals, as well as vitamin C, a substance that stimulates collagen production. "We've doubled the impact in Medlie's Pumpkin Spice with Collagen by not only making it rich in vitamin C from organic veggies to promote your body's natural production of collagen, but also adding grass-fed collagen peptides into the mix," Berliner says. Trade in your morning PSL for a PSC, and you could notice smoother, more supple skin by winter.
Drinking pumpkin spice isn't the only way to get your fix — pumpkin seeds are just as beneficial when applied topically. "Pumpkin seed oil is rich in vitamins, essential fatty acids, antioxidants, and sterols that can help protect the skin's lipid barrier," Noella Gabriel, the co-founder of ELEMIS, tells TZR. Since the lipid barrier helps lock in moisture, I'd say a dose of pumpkin seed oil is just what your post-summer skin needs to combat the dry air of autumn.
Ahead, 14 pumpkin-inspired picks to transition your beauty routine into fall — I mean, Pumpkin Spice Latte season.
Shop Pumpkin Spice Beauty Products