13 Makeup Gift Sets For Your Friend Who Basically Lives At Sephora
Stila Cosmetics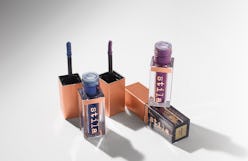 Each holiday season, the multitude of makeup gift sets from Sephora introduces an interesting beauty quandary: Which value cosmetics sets will you use as gifts for makeup lovers in your life, and which should you keep for yourself? However you take advantage of the Sephora deals abound in the makeup gift set section, there are a few that stick out of the crowd — both for their value, and for their cult product status in the beauty community.
Investing in Sephora's vault makeup sets is one of the most cost effective approaches to buying beauty gifts. Vaults range from being a collection of a brand's bestsellers, colorways of a singular makeup product (like a lipstick), or an assortment of products that all work towards a beauty goal (like highlighting). For the friend who always has to have the hottest eyeshadow palette, buy the Liquid Eye Shadow Vault All Eyes On You from Stila — a $288 value for sale at $195. The vault includes 12 full-size Stila liquid eyeshadows (six from the Glitter & Glow line and six from the Shimmer & Glow line), which regularly retail at $24 apiece. Split up the vault to gift the shadows to 12 of your closest friends, or give the entire party-ready set to one lucky person.
The reach of cult beauty products is wide. You've probably heard of Urban Decay's 24/7 Glide-On Eye Pencils, even if you stick to black eyeliner on a regular basis. The $21 waterproof pencil has a stunning 15,000 reviews on Sephora's website and comes in a rainbow of colors that can be used as eyeliners or eyeshadows. Since variety truly is the spice of life when it comes to eye makeup choices, skip buying just one of the full-size pencils and go with the Hex Remedy Mini 24/7 Eye Pencil Set for $29. A $79 value, the gift set includes five travel-size Urban Decay pencils in a navy shimmer, purple shimmer, orange metallic, warm gold metallic, and Perversion, Urban Decay's signature matte blackest black.
Have you ever wondered which mascara celebrities use to get those beautiful, sky-high eyelashes? Surprisingly, mascara may actually be the least important step in the entire process. Instead get acquainted with Lilly Lashes, the genius brand creating the fake eyelashes celebrities wear and love. Lilly Lashes are created from lightweight hairs that blend with your natural eyelashes, and only one strip is needed to achieve the appearance of full, thick lashes. You can score one of the brand's bestsellers — the Miami lashes Kylie Jenner uses for her simple glam looks — in Sephora's Lilly Lashes gift set, a $73 value for sale at $60. The gift set comes with one pair of the 3D Mink Miami lashes, one pair of Natural Mink Diamonds lashes, and a rose gold applicator.
The best part of gifting Sephora makeup is that you can skip the gift wrap. Just tie a bow around the striped shopping bag's handles for a gift that will make your Sephora-obsessed friend's heart start racing the moment you hand it to them. Below, 13 gift sets from Sephora certain to thrill your friends.