13 Gifts For Pottery Lovers From Etsy That Are Cool, And Not Too "Crafty"
Amy Hamley Ceramics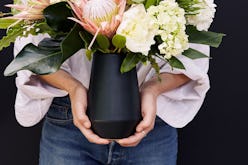 Though browsing big name stores for holiday gifts can make you feel like you're starring in the beginning of Breakfast at Tiffany's, some gifts are better found off the beaten path — and pottery often falls into that category. Any vase can hold flowers, but a handmade vase shipped directly to you from the artist holds a story. For one-of-a-kind ceramics, skip the lines and hunt for unique gifts for pottery lovers on Etsy this year instead.
You won't be at a loss for options: There are over 400,000 pieces in Etsy's pottery section alone, with many celebrated ceramics artists and blossoming up-and-comers using it to sell their wares to the world. If this is your first time shopping the eclectic website, keep an eye out for stores with plentiful, recent reviews.
From the silly to the sophisticated, there's a pottery gift on Etsy for any friend, family member, or significant other. Maybe expensive oyster dinners aren't always an option for date night, but you can remind your special someone that you're always under their spell by gifting them a Gold Splatter Oyster Bowl from Element Clay Studio. The palm-sized dish is only $32 and created from porcelain decorated with 18k gold.
Sending succulents is the millennial version of a delivery flower bouquet. If you have any worries about the recipient's plant parenting capabilities (not everyone has a green thumb), give them the gift of a Tierra Sol Studio plant and planter. The North Carolina duo of Seana and Yair Monley Rodriguez both hand make the ceramic planters and grow the cacti and succulents in their greenhouse. Each Martha Stewart-approved set is potted in appropriate soil and sent with care instructions that even notorious plant killers can follow. You have tons of options, but the $55 Lorenzo Cactus and Ceramic Planter's blush pink design is definitely cute enough to gift a long-distance friend.
Though newer to Etsy, BaradaxCeramics sells the work of celebrated Ukranian ceramics artist Artem Prysyazhnuk. Together with his sister Anna, BaradaxCeramics creates incredible minimalist candleholders and animalistic porcelain teapots, but the pendant lights are especially breathtaking. Give the gift of light with this $135 Ceramic Suspension Lamp, complete with installation hardware included. The pendant lamp is crafted from porcelain that's smooth on the outside and rugged on the inside. The artist also crafted the pendant's ceiling canopy out of matching porcelain; this attention to detail is one of the best parts of shopping small.
Want to impress the pottery collector in your life that thinks they have everything? The Galilee ceramics studio FreeFolding creates delicate geometric designs using a folding technique. The results are strikingly different from typical wheel thrown pottery: This $88 blue ceramic bowl looks like a piece of folded fabric somehow keeping its shape.
Below, 13 unique pottery gifts from 13 different Etsy stores. Many of the pieces are truly one-of-a-kind, so if a piece sells out before you can get your hands on it, just check out the artist's store. Each one below has a bevy of ceramic pieces to choose from plus informative reviews from shoppers to help you make your picks — but here are some of the best pieces.