This $6 Lipstick Has More Than 1,900 5-Star Reviews & Gives The Perfect Matte Look
Shutterstock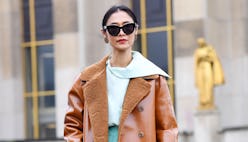 When it comes to finding the perfect lipstick — that is, one that not only has a shade that could be perceived as custom-made for your skin tone, the right consistency and finish of your liking, and is affordable — the journey is often considered a near-impossible feat rather than a simple trip to the beauty aisle. However, cult-favorite lipsticks become what they are for a reason, and thanks to the Internet (and online product reviews), you can find out exactly why from women who have gone through and tested them out so you don't have to.
While there's nothing particularly wrong with testing out each lipstick you're interested in on your own, stocking up on a number of options only to end up liking a fraction of them can often lead to an excessive amount of product along with an empty wallet — even if they were on the affordable side. Luckily, with the help of beauty lovers who have gone before you, you can rely on genuine reviews and ratings of the different lip products you're considering.
As you begin your search for quality lipsticks that don't cost an arm and a leg, Walgreens is fully stocked with under-$10 options to choose from. While that may seem overwhelming at first, simply look to the ones that have been tried and true by a seemingly endless number of fellow shoppers like yourself.
This NYX Professional Makeup Soft Matte Metallic Lip Cream in Budapest has an impressive average rating of 4.5 stars based on over 2,000 reviews and costs $6.29. With reviewers describing it as as a lipstick with long-lasting color and a lightweight feel, you simply can't go wrong here. One of the products with the highest number of reviews is the Maybelline Superstay 24 2-Step Liquid Lipstick Makeup in a deep wine shade, with a total of 3,023 reviews and an average rating of 4.1 stars. Available for $9.99, shoppers claim that this liquid lipstick is a true 24-hour product.
If you want the top product based on reviews, it's the Superstay Matte Ink Liquid, also by Maybelline. The product, which costs $9.49, has a rating of 4.4 stars based on over 6,400 reviews. Described by one reviewer as "the most gorgeous matte," this matte liquid lipstick leaves a finish that has everyone raving. Just in case you want something that's guaranteed to leave a nice, hydrating finish to your lips, the Rimmel Moisture Renew Lipstick in Rose Blush has a collective near-perfect rating based on 756 reviews. One reviewer considers this lipstick as the Holy Grail of lipsticks, saying that "nothing compares to this."
Now, scroll down to see more of the affordable lipsticks beauty lovers simply can't get enough of.