12 Workout Leggings With Pockets That Let You Take The Important Stuff With You
Athleta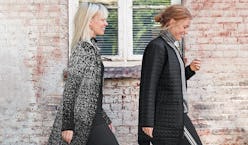 Ever found yourself debating between leaving your personal belongings at home in lieu of having to hold your wallet and keys while you run? While sweats can have storage galore, workout leggings with pockets seem harder to come by. What has become a wardrobe staple for many, leggings often log just as many hours on your lower half as other pieces in your wardrobe, making them equally deserving of storage options. You'll be happy to learn that leggings with pockets are out there, and with a little digging you can find the pair that best matches your aesthetic and fitness level.
For those runners in need of multiple pockets, first take a look at lululemon's Speed Up Tight Full-On Luxtreme 28" for $108 — this sleek pair features three different spaces to tuck your belongings. Slip your ID in the front of the waistband while you zip your keys into the back pouch. As for your phone, slide it into the slot on your upper leg for easy access.
If you're going to be doing more training, you may like The North Face Women's Motivation High-Rise Pocket Tights for $80. Composed of high-stretch compression fabric, this style has pockets at the thigh to hold your locker key and badge when you head into the gym. With over 130 five-star reviews, customers praise the legging for its level of comfort, versatility, and ability to fit their phone.
Another well-reviewed pair can be found at Old Navy, and they'll only set you back $34.99. The Mid-Rise Mesh-Pocket Compression Leggings have an interior front pocket as well as mesh pockets on each of the upper legs. This style has racked up over 450 five-star reviews that attest to the level of compression, softness, and convenience of the pocket features. If you own far too many black leggings already, switch it up and pick up this style in olive green. And if color is really what you're after, check out the TechSweat 7/8 Zoom Legging from Outdoor Voices for $95, too. The color-block style features a hidden back pocket that's large enough to hold a phone.
Of course, if you're seeking more of a cropped style, opt for the High Rise Transform Pocket Crop from New Balance. This style features two side pockets to hold your belongings, as well as reflective detailing, making them ideal for evening outdoor workouts. They come in six different colors, so you may just want to pick up a couple of pairs for $84.99 each.
Continue on to shop 12 different leggings with pockets and find the style that suits not only your style, but workout routine, too.