The One Store That Has The Perfect Affordable Gift For Everyone On Your Shopping List
Dvora/Shutterstock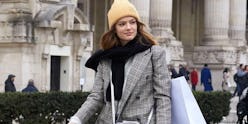 More likely than not, with the holiday season inching closer and closer, you probably have gifting on your mind (if you don't already, that is). As you start putting together those shopping lists, and map out your game plan for all of those Black Friday and Cyber Monday Sales — not to mention those markets for local and small businesses — shopping for gifts can feel more stressful than it should be, and they're not always affordable. Luckily, with a major store like T.J. Maxx, you'll be able to find under-$25 gifts for everyone on your shopping list for the season, without putting a huge dent in your bank account.
Before you think twice about getting all of your holiday gifts at T.J. Maxx, let's be clear: This store is an unsung hero — especially when it comes to shopping for quality products at an affordable price. In the near-endless stock the company has, you'll find just about anything your friends and family could want, whether it's a chic beauty product or something for the kitchen.
Offer your mother something to pamper herself with this season, like this NARS Dual Intensity Eyeshadow, $12.99. She'll want to wear it to all of her holiday festivities, from the formal family dinner to any gift exchange party with her friends. If she prefers to host the party rather than attend, you can't go wrong with this minimal Ceriart Samira Platter, which can be used for anything and only costs $9.99. Have a father who enjoys the occasional fix-it problem or simply loves to tinker with different things? Be sure to gift him with this Noble Stainless Steel Pocket Multi Tool Pliers, which he can keep on him at all times with his keys. You can also inspire the world traveler in him with an Artisan de Luxe Home Globe, $16.99, which will look great anywhere from his office or the living room.
Your siblings might require a different approach when it comes to gifts, but T.J. Maxx still has you covered. Your sister will love decorating her home with a warm Texteis Penedo Color Block Throw, especially during this time of year. As for your brother, if he's someone who loves to make a quality cup of coffee, this Master Class Stainless Steel Oak Handle Coffee Press will be the perfect present, and costs $14.99. You also can't go wrong with things they can always use, like a makeup mirror or a leather wallet.
Of course, you can't forget the ones who aren't related to you. Treat your best friend to a new tube of lipstick, like this classic shade of 220 Devil by Dolce & Gabbana, $19.99. Or, if she's moving into a new home soon, this sleek set of $7.99 Autumn Hill coasters will be the cutest finishing touch. As for your S.O., plan for all of the meals you'll make together with this Master Class Aluminum Braiser, which costs $24.99. Or, get them the ever-useful Wireless Charging pad from Merkury (which you know you'll be able to use, too).
Now, scroll down to shop all of these gems from T.J. Maxx to get for your loved ones this season.
Mother
Father
Brother
Sister
Best Friend
Significant Other