These Timeless Mango Pieces Will Be In Your Closet For Years — & They're All Under $60
Mango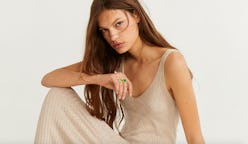 As many fashion lovers would agree, classic pieces are a necessity in anyone's wardrobe. You know the ones — they transcend the trends of now and act as the foundation to nearly any ensemble. They're the pieces that hold up season after season, maintaining a place among your clothes until they become threadbare. And whether your closet is already filled with everyday classics or not, chances are you could always add a few more. Luckily, there are plenty of timeless pieces at Mango for you to shop now.
Building a timeless wardrobe can be tricky — some might even say it's something that accumulates over the years. After all, these are the pieces that remain once you've finished sorting out the ones only meant for a season or two. However, with Mango's virtually endless stock of chic items that will never go out of style, filling your closet — whether it's for everyday occasions or more formal affairs — will be easier than you think.
Thanks to the nature of a wardrobe with perennial trends like silk camisoles and button-down shirts, these pieces are incredibly versatile — and the best part is, they'll go with anything you own (including each other).
To get you started, opt for the $39.99 Pocket Flowy Shirt. Wear it with everything from a sleek pencil skirt for the office to a pair of long denim shorts for the beach. In case you want a top to wear for the office and happy hour, the Satin Top, also $39.99, will go well with the $59.99 Pleated Midi Skirt or a pair of wide-leg trousers and heels. And for those of you who prefer dresses, you won't go wrong with the $59.99 Belt Shirt Dress.
While it's still warm out, this is the perfect time to stock up on chic, breezy bottoms like the Soft Fabric Shorts, $59.99. Wear these with an effortless white T-shirt for casual occasions or a feminine blouse to dress it up. If you want a style that feels more structured, the $59.99 Belt Line Short will be great for outdoor activities such as a picnic in the park or a tour through your favorite vineyard.
Keep scrolling to see more timeless pieces from Mango below.