12 Products That Will Transform Your Living Space In The Chicest Way Possible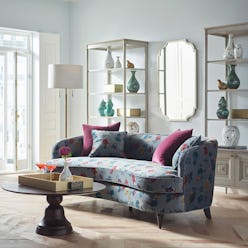 Now that we're almost a year into this new work-play-live-from home lifestyle, our approach to interior design has gotten a bit of a makeover. These days, it's less about totally re-doing an entire abode and more about sourcing one key piece that will turn a room into a complete standout. And since this new shift in focus comes at a time when we have little control over a lot of things, it's safe to say that playing the ultimate style authority and having the final say in our home decor has turned into a full-on exercise in empowerment.
Our new mindset when it comes to curation is to invest in pieces that will stand the test of time. If you can picture yourself nestled in a statement chaise or working at an 18th century-inspired desk for years to come, that's how you know you've found "the one."
To make the search for these timeless pieces even easier, Frontgate has a line of gorgeous one-piece wonders that will catch your eye and swiftly transform any space. Keep reading to learn exactly how to upgrade your home — and take control of your surroundings — this season.
Hang A Mirror-Slash-Objet D'Art
Hello, gilded beauty. A wall piece that's a mixture of mirrored panels and flecks of gold will add glamour to any living space. The hand-antiqued finish is that little something extra that shines over a console, fireplace, or sofa — although it can hold its own on a bare wall, too.
Cozy Up On A Cool Curved Couch
Work the angles of your family room with a sofa boasting a stylish of-the-moment silhouette. It comes with a perfectly-paired set of throw pillows to up the cozy factor.
Add Instant Luxe With Plush Pillows
The littlest touch like swapping out pillow covers for those of the velvety variety will elevate your lounge area faster than you can utter the words "decor update." Bonus: Add a monogram for a pretty, personal touch.
Sleep In A Bed Frame Fit For Royalty
A timeless canopy frame rendered in brass is the quintessential mix of classic and modern. (It's like the adult version of the luxurious bed you dreamed of as a kid, only better.)
Settle Into A Lounge-Ready Settee
Comfort is king, which is why this feather-and-down plush chaise will reign supreme in any room. Chic performance fabric means it will hold up to kids, pets, and wine (yes, even the red variety).
Try An Heirloom-Inspired Chest For Storage
Nothing says Parisian drama like a brass ring-handle chest that works just as well in the family room as it does in the bedroom. Modeled after an antique French dresser, this stunner will seamlessly store extra linens, clothing, and more.
Gather 'Round A Marble-Top Eating Nook
From easy breakfasts to family dinners, a marble-top table is the best meeting place for loved ones to reminisce about their days. Based on your seating choice, you'll be able to comfortably fit four to six with ease around the hardwood tulip base.
Cheers To A Cocktails-Ready Bar Cart
For the days where you repeat to yourself, "It's 5 o'clock somewhere," this is your new must-have accessory. A glass-top bar cart in stunning silver has casters on the bottom so it can be rolled from room to room without ever scratching the floor.
Light Things Up With A Toile Lamp
Inject some light into your space with a linen-shaded lamp with serious artistic flair. Try it in your home office for an unexpected pop of color and whimsy.
Add A Chic Table That Does Double Duty
No storage? No problem. With this classic side table, you also get a set of hidden shelves perfect anything you want to keep on hand but neatly out of sight. Its mahogany wood and ash burl veneer structure means you can count on it being as solid as it is convenient.
Shine Bright With A Statement-Making Chandelier
A contemporary take on a chandelier is the prime definition of a one-piece room update. Metal and brass detailing flanks candelabra bulbs in the most eye-catching of ways. Perch it above your dining room table, in your kitchen nook, or go rogue and put it over the bed for an unexpected twist on mood lighting.
Add A Lamp With All The Right Angles
Up the ante of any side table setup with this unique hexagonal lamp that's — how chic is this? — inspired by the shape of antique tea boxes. The 100% steel body provides a perfect contrast to the soft linen shade.
This post is sponsored by Frontgate