11 Valentine's Day Gifts For Foodies They'll Want To Use (& Eat) That Day
Food52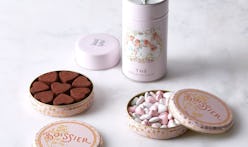 The world of food is a lot like fashion. It has its own terminology (try Googling the difference between a "chef" and a "cook"), breakout trends (hello, avocado toast), and endlessly quotable icons (whether you're more of a Julia Child than a Gordon Ramsay probably depends on the day). Like your wardrobe essentials, the staples that make up the foundation of a home chef's kitchen can be enhanced, and can grow to incorporate trends — but rarely change. So, while all this may make it seem that much harder to find Valentine's Day gifts for foodies, it actually gives you a set of rules to play by.
Start out with those staples. Durable cookware, adaptable tools, a set of reliable, razor-sharp kitchen knives — these are the gifts you may feel like your foodie already owns, but may actually thrill them the most. After all, why settle for just any bag when you could be carrying a Birkin?
Exactly who makes the Birkin bag of knives is up to debate (and foodies do, passionately), but a $155 trio of knives from Material is a surefire way to make your foodie's day. Debuting late 2017, the relatively new kitchenware company consistently makes waves thanks to its sleek, beautiful, and high-quality products. The set of three knives is a good way to affordably elevate a tool your foodie probably uses every day; the set comes with Material's version of the traditional chef's knife, a serrated knife, and a paring knife.
If your food-obsessed Valentine's kitchen is already decked out with the latest and greatest, snag them the trendiest. Milk Bar — makers of the sprinkle-covered, Instagram-famous birthday cake that won over the internet during its 'Chef's Table' scene — offers nationwide delivery. Plus, the bakery is offering $10 flat rate shipping for items in its Valentine's Day Shop, which naturally includes the iconic cake. All you have to do now is tell your foodie you're in charge of dessert.
Ahead, nine more ideas of what to get your food-loving Valentine this year, in addition to the knife set and birthday cake's links. Valentine's Day only comes once a year, so your favorite foodie should have their Insta-famous cake (and eat it, too).