11 Under-The-Radar Beauty Stores, For When You Want to Switch Up Your Shopping Routine
Violet Grey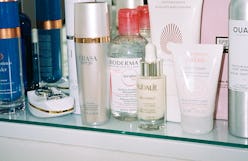 I have a healthy, long-term, loving relationship with Sephora and Ulta — and I know I'm not the only one. I trust them. They're good to me. Nevertheless, I've recently found myself checking in on under-the-radar beauty stores just as often. There's a thrill in shopping off the beaten path, and discovering a product none of your friends have yet to hear of — and yes, this still is a possibility, even with the recent boom in the beauty industry. Scoping out under-the-radar stores also gives you access to under-the-radar sales; something that has personally lead me to all corners of the internet in the past.
So, whether you want to be the first in your group to introduce everyone to the next best thing, or you'd like to figure out where to save money on your favorite makeup brands, continue scrolling — 11 online beauty stores that are still relatively lesser known are listed below.
1. Beautylish
Started in 2010 as an online beauty community, Beautylish began its transformation into the major beauty shopping resource it is today back in 2012 (with the introduction of hand-selected online "boutiques.") There's still a major sense of personality to the store; it carries a curated selection, and still offers up pages upon pages of community product reviews.
2. Bluemercury
Bluemercury opened up shop in 1999 as a way to bridge the gap between drugstore makeup and department stores — with a keen focus on hiring knowledgeable, beauty-savvy staff. Even now, if you shop Bluemercury's website, a chat window button appears at the bottom of the page. Just in case you have any questions, big or small, while you browse.
3. CAP Beauty
CAP Beauty embraces the wellness side of beauty. With more than 150 brands in its lineup, CAP Beauty offers everything from makeup to skincare to a bustling online natural grocery store. It stocks classics in the industry — like RMS Beauty or Vintner's Daughter — as well as intriguing up-and-coming natural beauty brands (making its "This Just In" page one to bookmark if you haven't already).
4. Chillhouse
Even if you live miles and miles away from any of Chillhouse's chic nail salon, spa, and café locations, visiting its website gives you an all-access pass to the brand's inimitably cool aesthetic. It's also a must for any lacqueristas — since the brand functions as a nail salon, its online selection of lesser-known or indie nail polishes can't be beat.
5. Cos Bar
Heralded as a seriously luxurious beauty shopping experience, Cos Bar is where you can find high-end brands and products — and, surprisingly, some pretty great deals on luxe makeup. Bookmark its sale section, and check it often: At the moment, it offers everything from discounted Guerlain beauty products to deals on Laura Mercier makeup.
6. Credo
Credo makes shopping online for clean beauty products incredibly simple: Its entire cruelty-free selection is stamped with the Credo Clean Standard, which guarantees they won't include any ingredients from its "Dirty List" (like parabens or phthalates).
7. Deciem
It's a given that any skincare fans know about The Ordinary by now — however, you may not realize that that brand isn't the entire picture. The Ordinary is just one skincare brand by the company Deciem, who also founded NIOD, Hylamide, and more, all of which you can shop online.
8. The Dreslyn
Minimalists may sigh a breath of relief when shopping The Dreslyn's sleek, curated beauty lineup. Products are luxurious, simple, and beautifully designed — an aspect The Dreslyn always seems to keep in mind. Chances are high you'll discover a new favorite, too; its stock includes plenty of lesser-known (yet still luxe) brands sure to impress.
9. Riley Rose
Riley Rose's beauty selection is not to be ignored; nor are the brand's frequent sale-on-sale events. Shop the brand if you're interested in indie brands, cult favorites, or K-beauty — Riley Rose offers a great mix of all three.
10. Soko Glam
Speaking of K-beauty. If you're after the best K-beauty has to offer, then Soko Glam's website is about to become your next best friend. While the brand is based in New York, it notes online that its team travels to Seoul to source products directly from the market.
11. Violet Grey
Violet Grey includes a mission statement on its website, writing "the future of shopping is about curation, not contributing to the noise." That means that these are tried, true, and tested products; and luxurious ones at that. Violet Grey offers a chance to shop like a Hollywood It-girl, wherever you may live.