Foolproof Gift Ideas From Ulta That'll Save You During Your Last-Minute Shopping
OPI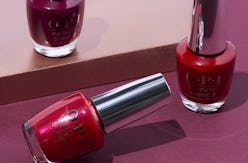 The end of the year means you may be coming to the final drop of moisturizer, swipe of powder, and twist of lipstick. If you're feeling like your medicine cabinet is going to be looking bleak come the new year, it's likely that your loved ones are feeling the same way. Let your holiday gifts replenish their beauty favorites by shopping Ulta gifts under $25. You'll be able to score standout presents while keeping your cart budget-friendly.
You don't have to spend a lot to find a solid gift that'll be appreciated by its recipient. The mega beauty store has loads of products that your fellow beauty-loving family and friends will be eager to unwrap. From lip gloss and nail polish sets to palettes and brushes, you'll be able to find something for all the ladies in your life while not overspending.
When shopping for skincare enthusiasts, check out the Mario Badescu Rosewater Facial Spray Trio. For $24, you'll be able to give three sizes of the popular spray so the giftee won't have to worry about not having the option to mist when they're on the go. They'll be able to leave one at home, one at the office, and save the smallest for travel.
Scoop up the Sun Bum Day Tripper pack, $19.98, for anyone that has been talking about the sunny vacation they're going on over the holidays. Your gift will definitely not be forgotten when they're hitting the beach and laying poolside. The set is composed of three travel-size sun care essentials — SPF 30 lotion, SPF 30 coconut lip balm, and an aloe vera lotion — making it ideal for that jet-setting friend who needs TSA-approved everything.
As for makeup, there are tons of options that fall under $25 — so when it comes to selecting a present, think about what that particular loved one is known for. Do they always have a shade of gloss on? Are they not afraid to wear color on their eyes? Do they proudly show off their near-perfect at home manicure? Once you answer these questions, you can get to shopping the product that best suits their specific beauty routine.
And not to worry: There's something for all those friends mentioned above from Ulta for under $25. Continue on to start shopping, and you'll be crossing names off your list left and right.