11 Stylish Basics In Zara's Sale That'll Go With Everything In Your Closet (& Are Under $25)
Zara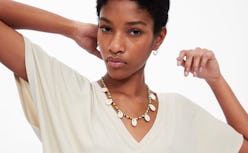 Chances are you already know that when you need affordable, trend-driven fashion pieces, Zara is the place to shop. After all, if there's a trend you've been thinking about trying, the major retailer is bound to have its own version of it in a short amount of time. And while you can always count on Zara to have chic and fashion-forward pieces in stock, there are plenty of stylish basics from Zara worth adding to your wardrobe, too.
When it comes to stylish trends, there's no doubt that Zara knows what it's doing — so why wouldn't it be the same with its basics? And during the brand's summer sale, you can get these pieces for up to 70 percent off — which means if there's any time to stock up on all your staples, it's now.
Update your wardrobe with easy and versatile neutral pieces such as these now-$19.99 Belted Wide Leg Linen Pants, which can be worn with this $15.99 Basic Top with Side Vents for an unexpected (and cool) work ensemble. You can also wear the Textured Top, which is on sale for under $10, with your favorite pair of jeans or the $19.99 Belted Shorts for a casual weekend look that carries a touch of polish.
If you happen to be looking for dresses, Zara's got you covered there, too. Style the $9.99 Buttoned Oversized Shirt Dress with a classic leather belt to give it more shape, or wear it on its own for a relaxed, airy look. Want something a little more structured? Opt for the Authentic Denim Dress, $19.99, which can be worn with a pair of sneakers or ankle boots. And for those more formal occasions you have scheduled over the coming months, wear the $9.99 black Knotted Dress with a pair of classic heels and a sleek blazer over your shoulders.
Scroll down to see more must-have basics in Zara's sale.