The $50 Target Side Table That'll Add Style (& Remove Clutter) From Your Space
Target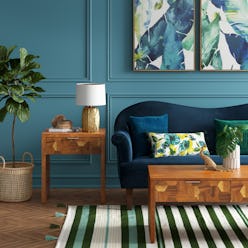 When it comes to building a home, literally and figuratively, the process can be a lengthy one. Though the years that come with creating memories with your loved ones can't be accelerated — as if you wanted time to move any faster — you can make building the environment you live in a bit easier. If you've already filled your place with big-ticket (or just big) pieces like dining tables, couches, and beds, then you've already gotten the heavy lifting out of the way (pun intended). Now, the only thing left is to sprinkle smaller pieces throughout to add character, and if you're someone who values form and function, then these side tables with storage from Target will be exactly what you're looking for.
Not to say decorative pieces don't have their place in a home, but when you've got something that not only looks good, but can also act as a way to make your space clutter free, you just can't go wrong — especially when they're at an affordable price. For under $100, these side tables from Target will add a touch of your own style (and organization methods) to your home without putting a dent in your bank account; talk about a win-win situation.
Whether you're someone who prefers the pieces from the classic mid-century modern aesthetic, clean minimalist movement, or even a modern take on rustic woods, the major retailer's broad selection has affordable options for any area you're styling. Place them at your bedside for a space to put your glasses or books, or in your living room next to the couch to store old magazines and remotes — the options are endless.
This Jabiru Side Table with Drawer from Opalhouse, which is on sale for $49.99, will add a hint of warmth to any room. And, the hexagonal detailing on the front panel makes it so much more interesting than your standard table. Looking for something to go along with your modern minimalist home? Try this Corrina Angle Leg Side Table, which combines a clean design with a semi-rustic texture and costs $62.99. On the other hand, if you love clean lines but feel like you want to add a subtle pop of color, this Hafley Three Drawer End Table in Berry, $79.99 will inject life into your home without feeling too bright.
In the chance that you prefer the something on the rustic side, opt for this Edge Water Side Table from Sauder, $84.99. This classic design will always look good, no matter the trends of interior design. Or choose the Warwick Wood & Rattan Side Table, $89.99 which has a slightly bohemian feel to it with the rattan texture. If you're looking to add something on the more unique side to the mix, set this Art Deco-inspired Metal and Wood Brown End Table by Olivia & May in your living room; it's bound to catch anyone's eye.
Home décor can often feel like a hefty task (on both you and your bank account). But rest assured: You don't have to spend a month's paycheck to add a chic piece to your home. Now, keep scrolling to see more of the affordable storage-friendly side tables Target has to offer below.