11 Gift Ideas That Donate All Proceeds To Charity, Because It's Nice To Give Back, Too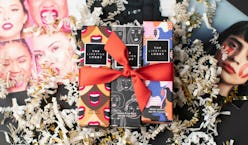 When you give your friend a celebrity-approved red lipstick or a sold-out basket bag you spotted way back when on Reformation, they probably won't guess they're on the receiving end of gifts that give back. But since you'll be spending money during the holiday gifting season — sometimes, a lot of money — there are stores to shop that are donating 100 percent of proceeds to nonprofits and charity organizations. Yes, not a portion of proceeds, not 10 percent: the whole shebang.
What do Reformation, Anthropologie, and goop have in common? Other than dreamy clothing, each have stocked Indego Africa's basket bags and goods. And while the bags are sold out on Reformation's site (woven bags don't last long there), you can still pick them up on Indego Africa's own website. Though the bags are structural beauties on their own, woven from natural fibers by African artisans, 100 percent of each sale's proceeds are donated back to the education of the artisans Indego Africa works with.
When actress Selenis Leyva mentioned to Us Weekly she carries The Lipstick Lobby's lip balm in her bag, you may've wondered in passing who the brand was. Then when Laura Dern and Courteney Cox posed with the tubes, you probably had to have it. Combining two things the Internet loves — positive change and makeup — The Lipstick Lobby donates proceeds from its makeup products to nonprofits like the unPrison Project and the Brady Center to Prevent Gun Violence.
It was cool to care in 2018. This year saw 34 percent more Pinterest users searching for "sustainable fashion", Olivela ushering in philanthropic luxury retail, and the Spice Girls announcing a reunion tour with a charity T-shirt thats proceeds went to a gender justice campaign. Though the #IWannabeASpiceGirl shirt is sold out, continue scrolling for 11 gift ideas that give back 100 percent to charity.