11 Celebrities Who Use Drugstore Lipstick — & Where To Buy The Exact Shades
Neilson Barnard/Getty Images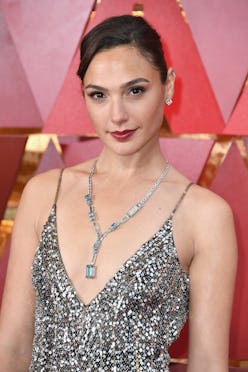 How many times have you been to your local drugstore or neighborhood Target for one thing, only to leave with a basket full of snacks, socks, cleaning supplies, a random piece of decor, and a few new beauty products? Don't feel bad: Hollywood does the same thing. Celebrities use drugstore lipstick just as much as the general population does — even at red carpet events like the Met Gala. And who's to blame them?
"I've found that many drugstore lipsticks are amazing quality these days and hold up next to their expensive counterparts," celebrity makeup artist Ashley Donovan says, noting that if you find a color you love at a low price point, you can turn your beauty counter splurge into a want, rather than a need.
And yes, there are some distinctions between the higher-end products and ones for a few dollars... but they're often ones that can be overlooked. "The biggest difference I find in high-end lipsticks opposed to drugstore is the obvious: packaging. Expensive lip products are always going to feel a little chicer and expensive than your $6 ones," Elena Miglino, celebrity makeup artist and Smith & Cult beauty ambassador, tells TZR. If it's what's on the outside that matters most to you, there are still many options that offer sleek, attention-grabbing packaging. (Talk about the best of both worlds.)
Ahead, see the budget lipsticks that stars wore this year, down to the exact shade.
Blake Lively
At the 2018 Met Gala, Blake Lively stunned in this nude-pink shade rich in color and with a glossy finish, according to Allure.
Imaan Hammam
Imaan Hammam looked like a million bucks at the 2018 Met Gala, but her lipstick was about seven, as reported by Glamour. Ultra HD Matte feels like velvet, and finishes in the softest, prettiest matte.
Kaley Cuoco
According to Refinery29, Kaley Cuoco chose this color to complete her wedding day look in July 2018. The color is neutral, but its warm sandy undertones don't go unnoticed.
Issa Rae
Glamour reported that COVERGIRL ambassador Issa Rae teamed this lightweight liquid lipstick with the brand's Melting Pout Glitz Liquid Glitter Topcoat for the 2018 Met Gala.
Gal Gadot
Gal Gadot finished off her 1920s-inspired look at the 2018 Oscars with a vibrant red, according to Hollywood Reporter. To achieve a raspberry finish, makeup artist Sabrina Bedrani teamed the lipstick with Revlon's ColorStay Lipliner in Wine.
Mary J. Blige
Per People Style, Mary J. Blige wore a soft pink lip at the 2018 SAG Awards, compliments of the shade PURR.
Allison Williams
Allison Williams' 2018 SAG Awards lipstick, Superb Wine, (as reported by Popsugar) deserved a toast on its own.
Rita Ora
Dark, bold, and moody, this plum shade was seen on Rita Ora at the 2018 Grammy Awards, according to Popsugar.
Helen Mirren
Helen Mirren looked wickedly good in this creamy, hydrating formula at the 2018 Golden Globes, Glamour UK reported.
Amanda Seyfried
Amanda Seyfried, who wore this liquid lip at the 2018 Met Gala, is yet another fan of the Burt's Bees brand, according to Glamour.
Cardi B
Seen on Cardi B at the 2018 American Music Awards (per a L'Oreal press release), this shade adds a vibrant, creamy pop of color to the lips... and lasts so long, too.