I Went On A Quest To Get Rid Of My Under-Eye Circles For Good
Anna Webber/Getty Images Entertainment/Getty Images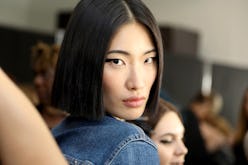 You don't have to pull an all-nighter to be plagued with dark under-eye circles, even though a 1 A.M. binge session of 90 Day Fiancé is more than a viable excuse. According to Dr. Joshua Zeichner, M.D., F.A.A.D., some people have darkness under the eyes because of the deposition of pigmentation which occurs as a result of sun damage and chronic, low-grade inflammation. I am one of them. But instead of slathering on loads of Tarte's Shape Tape, I use under-eye circle treatments to help me look like I got a decent six hours of sleep.
"The under-eye skin is among the thinnest on the body, so it ages faster than other parts of the face," Dr. Zeichner explains. "As the skin wrinkles, it does not reflect light as well as it should — giving a dark appearance. That darkness is essentially a shadow because of lack of volume. And because of genetics combined with age, we lose volume in the cheeks and under the eyes, which creates a hollow appearance."
With that new knowledge, I began a quest to diminish my own unsightly circles. It took an entire summer of trial and error, but I developed an entire routine that actually works. I start by using massaging tool that calms my skin and helps all of my creams and serums absorb more easily. After applying my SPF, I use a vitamin C serum strategically on my areas of concern, since it's so good for brightening. Lately, I've been following it up with a restorative eye cream with aloe since it feels so good on my skin, especially on warm days. Then I'll use a little concealer under my eyes topped with a setting powder. At night, I like using a cream with peptides, to boost my collagen. Call me extra, but it's working. And I don't need nearly as much concealer as I did before.
Ahead, see my cheat-code to bright and refreshed-looking eyes.
Shop Under-Eye Treatments