This Summer's New Lipstick & Gloss Launches Are All About High Shine & Bold Color
Courtesy of Clé de Peau Beauté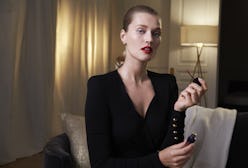 You don't have to be a beauty aficionado to divine a clear pattern from the summer 2019 lipsticks and glosses: being bold is in. How you go about that boldness is up to you, though. As July turns up the heat, colors continue to rise, lip glosses sparkle brighter, and even luxury brands like Christian Louboutin find a way to sneak glitter into its formulas.
However, it's also clear that traditional lipsticks aren't the only option anymore when it comes to finishing off a full face of makeup. Chalk it up to the power of no-makeup makeup dynamo, Glossier — which launched two new shades of its cult-favorite Lip Gloss on July 9. Now, it's just as trendy to complete your look with a swipe of gloss or balm; and you have more brands than ever to choose from to help you create a glassy, hydrated pout.
The power of a classic red lip hasn't waned, though. Clé de Peau Beauté's new Radiant Liquid Rouge shades prove this simple fact of life (and they still allow you to choose between a trendy gloss or a subtle matte finish). Same goes for a skin-complementing nude shade, or a pink shimmer you can wear every single day. To explore what summer 2019 has to offer your lips, keep on scrolling — 10 new lipsticks and glosses are ahead.