10 Dresses That Prove This Old-School Print Is Back In A Big Way
Shutterstock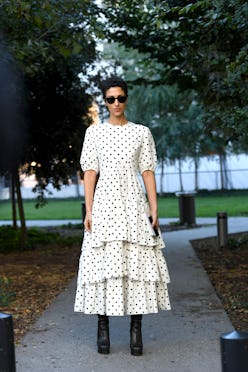 Some may call it the "Jacquemus effect," but there's no denying that French designer and fashion sensation Simon Porte Jacquemus is responsible for ushering in the renaissance of the polka dot. This season, polka dots are shaping up to be a print of the moment (alongside leopard, of course), and polka dot dresses have become a key piece in every trendsetter's winter wardrobe. But, what makes the latest takes on polka dots feel fresh? Cool brands like Lee Matthews, and RIXO London have reimagined the eternally classic print by introducing a new league of styles that feature fresh color-mixing, ruffled detailing, and modernized silhouettes.
"Rather than focusing just on a classic monochrome polka dot palette, this season [dresses] have been reworked in a lot of new colorways," says Orlagh McCloskey, Co-Founder and Creative Director at RIXO London. McCloskey has modernized her vintage-inspired aesthetic one step further this season, by renewing the timeless print, and masterfully mixing it with other patterns. "We find that polka dots can be reworked [for] mixing and matching with [other] multi-faceted prints," says McCloskey. For another modern take on this print, Australian-based designer Lee Matthews has focused her efforts on emphasizing the simplicity and more graphic elements of the print. "For us it is about playing with scale and focusing on textiles," says Matthews.
Now, with proof that polka dots have once again made their valiant return — marked by it's radical makeover — it's time to embrace the enduring appeal of fall's boldest spotted print. Below, find 10 distinctly unique polka dot dresses, along with key style tips to help guide you along the way, and decode the reworked staple for right now.