10 Plus-Size Vacation Looks That Are Definitely Coming With Me To The Beach
instagram.com/iambeauticurve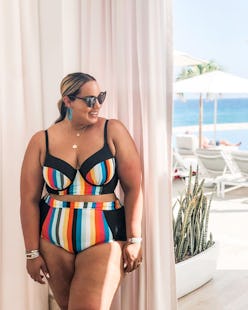 To say that I'm looking forward to my upcoming vacation would be a disservice to my true sentiments. I'm literally counting down the days until I'm sinking my OPI Bubble Bath-painted toes in white sand, splashing around in the clear blue Bahamian oceans, and sipping down as many umbrella-topped cocktails as are appropriately possible. While my itinerary is already set (my BFF is a master planner), there's one blind spot that's already sneaking up on me: plus-size vacation looks. I'm freaking out about how many bathing suit-and-coverup combinations I need to bring, pairs of sandals that I'd like to stow away, and how I'm going to fit a giant brimmed sun hat in my carry-on without sacrificing my beloved toiletry bag.
But the fact that I'm even going to the beach and planning on wearing swimsuits to said beach are both progress in itself. There was a time when I avoided swimsuits like the plague ... and when I did have to go to a beach party or vacation, I'd shroud my body in a T-shirt or a massive tunic out of shame. There are only a few full weeks of summer left, though, and I refuse to waste them away because of insecurities. During a press trip in Palm Springs, I wore this fantastic Eloquii Wrap Halter One-Piece Swimsuit and felt like every bit of an old Hollywood starlet.
That piece is definitely going in my massive Calpak trunk, along with tons of swim tops to go along (and underneath) pretty, gauzy sundresses, skirts, and loose pants. I want a vacation wardrobe that's easy, glamorous, and interchangeable, and I think that the pieces below check all of those boxes. No clue on how I'll fit Jacquemus' giant hat into my carry-on, but here's hoping.
For Poolside Cocktails
I love the wrap detailing on this one-piece, and think that the burgundy tone would look really rich against my skin tone. I've been dying to try these fringe pants, and think that they'd work just as well with a band T-shirt as they would paired with this suit.
For Daytime Exploring
How darling is this gingham number? I already have the perfect straw hat and earrings to go with it. A sweet piece like this deserves to be paired with shoes that are just as charming, like these scalloped Chloé espadrilles that I've been eyeing all season.
For The 'Gram
I haven't been able to get this striped balconette bikini out of my head since seeing it on Rochelle Johnson, one of my favorite style bloggers. The colors are so vibrant, and if I layered the set underneath this sheer slime green maxi dress, I know my followers would go wild.
For Errands In Town
I realize that I can't be in a bathing suit for my entire vacation. I look forward to causing a stir on the mainland in this geode print midi from Anthropologie, teamed with a pleasantly extra sun hat. I'm likely going to get one made since this Jacquemus number is a bit small for my head, but you'd best believe that the brim will be just as supersized.
For Brunch
I'm approaching beach brunch the same way that I do stateside. I always like wearing comfortable layers (hellooo, leggings!) so that I can stuff my face with lobster mac and cheese with ease. I'm going to leave the Spandex at home, but this pretty, ruffled swim top and a high-waisted wrap skirt should give me the comfort and coverage that I crave. Because nothing will stop me from hitting the resort buffet.