All The Best Memorial Day Jewelry Deals To Shop If Your Collection's In Need Of A Refresh
AUrate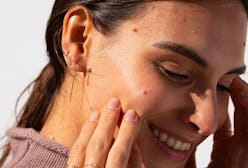 Ah, Memorial Day weekend sales; they can bring a lot of emotions. From the stress of finding the best deals to the flurry of excitement when you save big, it's basically a retail roller coaster ride. The key to avoiding the stress of shopping the sales is to make a game plan, and step one is to narrow in on what you're really looking to save on. And if the answer is jewelry, you've come to the right place. Instead of scouring the internet for hours hunting for the best Memorial Day jewelry deals, you can simply scroll on to start checking items off your wishlist.
From on-trend, shell-adorned pieces and statement floral earrings to simple, minimal designs, the lineup of sales below will let you shop them all (and more) for so much less. Continue on for 10 destinations with deals on jewelry — some of which you can start shopping now, while others will need to be bookmarked for the holiday weekend.
1. We Dream in Colour
The Massachusetts-based jewelry store We Dream in Colour is offering a 30 percent discount on its pieces when you use the code SUMMER30 at checkout from May 25 through May 27.
2. AUrate
AUrate's sale is the perfect excuse to splurge a little more than usual, because this year, the more you spend, the bigger the discount. You'll get 15 percent off when you spend less than $250, 20 percent off when you spend between $250 and $750, and 25 percent off when you spend more than $750. Just use the code MAYDAY19 at checkout to get in on the savings from May 22 through May 27.
3. Rellery
Like AUrate's sale, Rellery's discount also depends on how much you spend. From May 23 until May 27, you'll get 10 percent off when you spend less than $150 with the discount code MEM10, and you'll save 15 percent on orders of $150 or more with the code MEM15.
4. Wolf Circus
Insta-favorite brand Wolf Circus is getting in on the Memorial Day sales this year with 15 percent off sitewide from May 23 through May 26.
5. Les Néréides USA
Use the code MDWSALE at checkout from May 24 until May 28 to score 15 percent off select pieces from the brand.
6. Lulu DK
Lulu DK's Memorial Day Sale has already begun, and you can save 30 percent off on select jewelry styles when you use the code MEMORIAL30.
7. MATCHESFASHION.COM
The fashion-girl favorite retailer kicked off its spring/summer 2019 sale on May 20. And while it's not a MDW specific sale, you can still score stunning contemporary and designer pieces for so much less while you relax over the long weekend.
8. Net-A-Porter
If you haven't yet heard, Net-A-Porter's highly anticipated summer sale has arrived and it offers up a wide range of jewelry styles — from delicate necklaces to statement-making danglers — for up to 50 percent off. And given it's already in full swing, you can start shopping it ahead of the holiday weekend.
9. Club Monaco
From now until May 27, Club Monaco is offering 25 percent off purchases (excluding third party brands). Within the retailer's offerings are a selection of classic jewelry staples that you can save on when you plug in the code SUMMERTIME at checkout.
10. Nordstrom
The retailer is holding its Half-Yearly Sale right now, and you can save up to 50 percent off until June 2 — which will give you plenty of time to stock up on some of this season's top jewelry trends.