Every Memorial Day Sale Beauty Lovers Need To Know Ahead Of The Long Weekend
Credo Beauty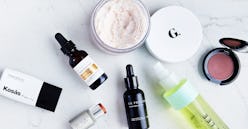 Well, the Memorial Day weekend weather report is in — and it's not looking good for any barbecues on your calendar. If record heat, thunderstorms, and rain showers keep you indoors this weekend, you still have an alternative to keep in mind: Some of the best Memorial Day beauty sales have already been announced, and you don't even need to leave your house to shop them. (Take that, rain.)
And there are sales to browse whether you're into indie beauty brands, clean makeup, or want to stick to classic staples you know and love. You have options for any budget, too: Luxury brands like ELEMIS and Laura Mercier are offering sales right alongside affordable skincare and makeup finds.
Ahead, 10 Memorial Day weekend makeup, skincare, and beauty sales to make this long weekend that much better.
1. The Better Skin Co.
Start off with a bang by browsing The Better Skin Co.'s massive Memorial Day sale, which starts May 22 and ends May 29. Just type in the code WOW33, and every single product on the skincare brand's website will be 33 percent off. Even better, shoppers can also score the deal on The Better Skin Co.'s Amazon page. (And yes, that does mean you can Amazon Prime yourself skin care now.)
2. Bumble and bumble
Bumble and bumble's Memorial Day sale is one to shop if it's time to restock on hair products. From May 24 until May 28, the brand will be throwing in a free travel trio with all purchases of $50 with the code VACAYVIBES.
3. Cover FX
COVER FX's sale offers 20 percent off its Summer Essentials collection — which includes vacation-friendly travel-size versions of products, too. Simply type in the code SUMMER from May 21 to May 27 to snag the deal.
4. Credo Beauty
Although Credo Beauty's sale is a bit different, it may be just what you need. The popular clean beauty retailer is offering free shipping on all orders from May 24 until the 27 using the code SUMMERLOVE. So, if you just need one harder-to-find, under-$50 product — that typically doesn't qualify for free shipping — now's your time to buy.
5. ELEMIS
This year, ELEMIS is running a Spend More, Save More sale for Memorial Day. From May 23 to May 27, shoppers can save anywhere from $25 (on any purchase of $150) to $125 (on purchases of $500 or more) with code MDW19.
6. Glo Skin Beauty
You'll have to use a different promo code at Glo Skin Beauty depending on how much you spend. Between May 24 and the 27, shoppers can save 15 percent on orders of $100 using the code SUMMERSALE15, 20 percent on $125 using SUMMERSALE20, and 25 percent on any purchase of $150 or more using SUMMERSALE25.
7. Laura Mercier
From May 28 to the 29, any purchase on Laura Mercier's website will get a free Caviar Stick Eye Colour. Just use Laura Mercier's promo code SUGARFROST to unlock your free item.
8. nügg
Starting at $3.99 apiece, nügg's face masks are already affordable. But if you plan on buying in bulk make sure you do it between May 24 and May 28; you can save 10 percent on any order over $20 by using the code USA10, and 20 percent on $25 or more using USA20.
9. SEEN
The dermatologist-tested haircare brand SEEN is getting in on the Memorial Day festivities, too: It's offering 20 percent off its online store from May 24 to the 27.
10. Shhhowercap
You may've spotted Shhhowercap's chic shower caps at its stockists (which includes Sephora, Urban Outfitters, and goop). If so, make sure you visit the brand's website between May 24 and May 27 — the entire site will be 15 percent off for Memorial Day.