The One Pair Of Boots You'll Rely On For Comfort ( & Style) This Fall
babba on Instagram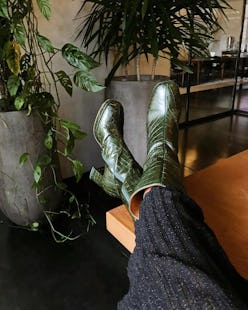 Finding footwear that is both practical and chic can be a daunting task — so much so that you may even be tempted to forgo style altogether and continuously grab for sneakers more than any other pair of shoes you own. While ultimately this choice is yours, just know that you don't have to throw fashion to the wind for the sake of wearability and that there are plenty of options out there. But as fall approaches and the temperature begins to drop, so does your selection to choose from. Luckily, comfortable fall boots are incredibly easy to find if you know how and where to look.
When it comes to hunting down the pair that's right for you, instead of combing through page after page on your favorite e-tailer, it's best to know what it is that you're looking for to narrow down the search. Chances are, the most comfortable design will have a low heel, a thick platform, or maybe even both. If you're browsing in store, check to see if there's a cushioned insole, as this will provide additional support that can oftentimes make up for a higher arch. The material should also be taken into account; the stiffer the leather, the longer it'll take to break them in, and ultimately the less comfortable they'll be in the beginning.
This proves to be true if you take the structured combat style into consideration or even slip the occasional western boot into the mix, as narrow toes can be tricky regardless of the heel height. Both are designed to wear nicely over time, but in the event neither are your style, ahead is a comprehensive list of alternatives that fit the bill just as well.