Zara Home's '29 Days' Print Collection Touches On The Stillness & Softness Of Everyday Moments
Consider your wall gallery complete.
Courtesy of Zara Home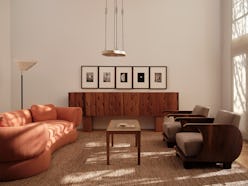 We may receive a portion of sales if you purchase a product through a link in this article.
Today marks a first for Zara Home. Already established in creating elevated textiles, decor, and everyday essentials for the home, the mega retailer is now setting its sights on wall art, launching its first print collection. Titled '29 Days' the new series comprises 13 photographs, curated by Rosa Park, artist, founding editor of Cereal magazine, and director of Francis Gallery, which has locations in Bath, England and Los Angeles.
Featuring the work of anonymous artists, the new collection offers consumers a taste of exclusivity as each print is hand numbered and limited to 150 editions globally. "Evoking the spirit of discovering an unsigned painting at a market, the works can be enjoyed and loved for what they are, rather than their provenance or other external association," reads the statement on the Zara Home website.
Packaging was also carefully considered as photos are printed on beautiful baryta paper with printed archival links and presented in a custom clamshell box. Referencing the length of one lunar cycle, each image aims to "speak to the values of stillness, softness, introspection and observation."
Park's eye for emerging talent comes into play here, as does her extensive background as a media artist and sound designer. According to her website, her creative practice is "deeply rooted in her cultural identity, memories, and religion." Park's past work has leaned strongly into "Korean traditional rituals, Korean shamanism, acoustic memories and environments, and the nature of life and death."
As an art curator, Park's sweet spot is indeed creating a more holistic gallery experience that merges art, mood, and atmosphere. This certainly is reflected in her latest curation with Zara Home: Each beautifully lit, moody print takes a thoughtful, elegant approach to an otherwise simplistic scene or object. Think darkened shots of a distant sun setting over the ocean, a singular shot of a flattened flower, and a shadowy, winding stone staircase.
"While curating the collection, I kept returning to the same words: 'stillness', 'softness', and 'introspection'," says Park on the Zara Home site. "For me, there is so much strength and power in these words — they are necessary for our ability to create. Our days are filled with dynamic, attention-grabbing events, as well as their equal, opposite moments of quietness. These photographs can remind us that we need both: the output and the input, the activity and the passivity, the darkness and the light. Each image conveys a unique expression of stillness and slowness, which I believe is fundamental to our strength and balance."
Park's '29 Days' curation for Zara Home is now available on ZaraHome.com and Zara.com. Shop some of the collection's prints below.