10 Inspiring Women To Watch From LinkedIn's List Of Top Professionals Under 35
Bret Hartman / TED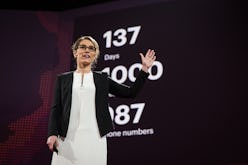 We obviously love the entertainment and fashion spaces, and are as addicted as the next gal to the every move of the Gigi and Kendalls of the world. That said, it's occasionally refreshing to see women working outside of these industries celebrated, which is why we so eagerly poured over the contents of LinkedIn's newest "Top Professionals Under 35" ranking. Here, some of the most inspiring women featured on this latest list to help motivate your hustle as we head into hump day.
Hayley Van Dyck, Co-Founder of U.S. Digital Service
Hayley got her start with Obama's 2008 campaign, where she worked on mobile strategy. After, she moved to DC and launched the U.S. Digital Service within the White House, which has since rebuilt Healthcare.gov, Vets.gov and more. As an added bonus, Hayley's talented team—recruited from Google, Amazon and the like–is made up of at least 50% women.
Jessica Foust, Director of Culinary Innovation for McDonald's
Jessica is the first-ever female chef for McDonald's and she's cleaning—or should we say greening?—house. The 32-year-old dietician is responsible for small changes to the menu aimed at making it more healthful, including the switch from iceberg lettuce to Tuscan red leaf and from margarine to real butter in the McMuffin. Thanks so her efforts, we can now pretend our post-wine McDonald's binge-fests have some health benefits. Hero.
Felicia Curcuru, Founder of Binti
Felicia, Founder and CEO of Binti, started her company after watching her sister struggle to adopt. The former McKinsey employee took a software-based approach to the process, making it easier and more affordable for hopeful parents to bring needy children into their families.
Caitlyn Fox, Chief of Staff for the Chan Zuckerberg Initiative
Caitlyn Fox bears the impressive title of Chief of Staff of the Chan Zuckerberg Initiative, the philanthropic venture started by Facebook founder Mark Zuckerberg and his wife Priscilla Chan. She basically hopes to acquire do-gooders in order to give them the freedom and funding they need to create positive change in the world.
Emily Miller, Co-Founder of Rumi Spice
Emily and her co-founder, Kimberly Jung, both served in Afghanistan as U.S. Army Captains. Disheartened by the lack of opportunity in the country—the people of which have been held hostage by both war and the opium trade—the two women launched Rumi Spice, a company which sources saffron from rural Afghan farmers. Their company is now one of the largest employers of women in Afghanistan.
Dr. Usha Periyanayagam, Physician and Affiliate Faculty Member For The Harvard Humanitarian Initiative
Usha is a physician, affiliate faculty member for the Harvard Humanitarian Initiative, and research director for the Global Emergency Care Collaborative. She dedicates her time to training medical professionals around the world to better deal with catastrophic events. Among her many achievements thus far, Usha has helped to prevent mass casualties due to bombs in Pakistan.
Shauntel Poulson, Co-Founder of Reach Capital
MIT graduate and Stanford masters-degree holder Shauntel is the co-founder of Reach Capital, a $53M fund which backs early-stage startups in the education space.
Yasmin Green, Head of Research And Development at Jigsaw
Alphabet's Jigsaw incubator, formerly known as Google Ideas, tackles some of the most daunting, online-related challenges of the day, including censorship, online harassment, digital attacks and violent extremism. Under Yasmin's leadership, the incubator has been working on reversing recruitment efforts by ISIS—no small feat.
Jessica O. Matthews, Founder and CEO of Uncharted Play
Get this—Jessica created a soccer ball that doubles as a power generator, aimed at keeping the lights on for those living in developing countries. As if that weren't cool enough, she also managed to raise the largest series A funding round for a black female CEO ever just last month.
Morgan DeBaun, Founder and CEO of Blavity
Morgan launched Blavity, a content site aimed at "putting the power back in the hands of black millennials to own their story and share their perspective," to address issues of diversity in modern-day media. The site reaches 10M millennials and is being called "the future of black media."