We're Hiring Editorial Interns In Los Angeles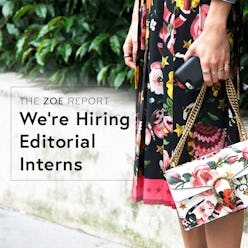 The Zoe Report is hiring editorial interns in Los Angeles for the fall semester! Candidates should have a strong interest in the fashion, beauty and lifestyle space as well as knowledge of the latest trends, e-commerce sites, designers and influencers. We're looking for extremely organized, detail-oriented and resourceful individuals who are eager to learn more about working for a fast-paced digital fashion publication.
Responsibilities will include:
-Pitching and writing original stories
-Conducting editorial and market research for fashion and beauty content
-Assisting our editors in building stories via our content management system
-Sourcing and sizing images in Photoshop
-Supporting the Zoe Media Group office with shoots, events and administrative tasks
Qualifications:
-Must be able to receive school credit
-Based in Los Angeles
-Available at least two full days per week until December 2016
-Strong interest and knowledge in fashion, beauty and lifestyle content, including various designers, e-commerce sites and influencers
-Understanding of The Zoe Report voice and brand
-Strong writing, communication and research skills
-Able to meet deadlines and pay attention to detail in a fast-paced environment, while maintaining efficiency and a positive attitude
-Internet-savvy and comfortable using Microsoft Word, Excel, PowerPoint and Google programs
If you are interested in applying, please submit a resume and cover letter to careers@zoemg.com with the subject line TZR Editorial Intern.