5 Highly Productive Work Habits To Steal From Alexander Wang
Joe Schildhorn /BFAnyc.com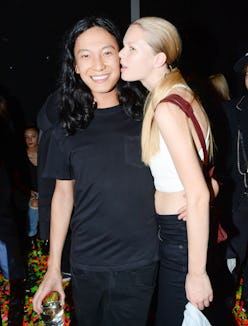 While the news of Alexander Wang's departure from Balenciaga circulates, one thing is for sure: The designer is still very much on top. After all, his 10-year-old namesake business pulls in over $100 million dollars in sales every year and now boasts 23 freestanding stores—including a brand-new flagship in London. In an interview with WSJ. Magazine's September Women's Fashion issue, Wang shared a glimpse of his typical work day (pre-Balenciaga exit) and we have to say, we're impressed. The designer sounds like he has that whole work-life balance thing down pat. A few of his steal-worthy habits, below.
Work Like Wang
1. Keep Creative Ideas Organized
Wang sends himself an average of 20 emails throughout the day with creative ideas and reminders and then compiles those ideas into one final email, which he can go back to when needed.
2. Find Your Uniform
Wang's personal style is simple and straightforward. The designer dresses in head-to-toe black favoring the kind of utilitarian pieces found in any army surplus store.
3. Hire People You Trust
Wang's 72-year-old mother consults for the brand, which is still family-owned, and he's known Vanessa Traina, a brand collaborator and muse, since boarding school.
4. Know Where To Cut Corners
Despite being in a city with some of the greatest food in the world, Wang relies on Chinese takeout while in Paris in order to focus his attention on designing.
5. Take Time Off
Wang, a well-known night owl and dance-party starter, also gets four deep tissue massages every month as a way to cope with work stress.