Cozy Winter Staycations Are My New Favorite Seasonal Tradition
Angela Melero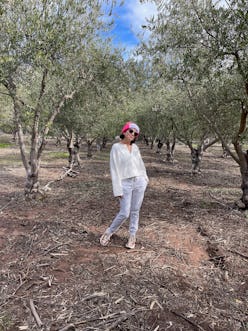 We may receive a portion of sales if you purchase a product through a link in this article.
In recent years, I've made staycations a somewhat regular tradition, although I typically dedicated them for warm-weather months. Instead of planning extensive seven-to-ten day vacations once a year, I'll take a long weekend to myself every couple months or so and book a stay at a local hotel no more than 45 minutes outside of LA — to keep things convenient and easy from a logistics standpoint. The reason I often stick to warmer seasons is because relaxation, for me, typically includes pool lounging, some sort of outdoor yoga or workout, and maybe a spa session. And while winters aren't exactly arctic levels in Southern California, they just never seemed to make for a restful atmosphere, as I hate being cold. That said, I was recently converted to the dream that is the winter staycation when I spent two nights in picturesque Ojai, California. In fact, I may even make this type of getaway an annual tradition to beat the pre- or post-holiday blues!
For those unfamiliar, Ojai is a little local gem about an hour or so northwest of Los Angeles. While relatively under-the-radar for years, recently, the area has become a hotspot for tourists thanks to its stunning views, wineries, rural atmosphere, and the crowning glory that is the Ojai Valley Inn. Established in 1923, the resort is now a SoCal institution, renowned for its stunning Spanish-style architecture, fine dining, and breathtaking backdrop. I've been meaning to pay the Inn a visit for years but, naturally, it's always fully booked and too luxe of a price point for my single-girl salary. So, you can imagine my immediate and enthusiastic response to an opportunity for a two-night stay.
While brief, the mini vacation showed me a new way to relax and really lean into a colder, nature-driven getaway. Yes, pool and beach days are lovely, and they will always hold their appeal, but there's something about bundled up Jeep tours, lazy wine-tasting, and long nature walks that can also be truly restorative. The key, I've learned, is how you plan your time, what you prioritize, and how you prepare.
Ahead, check out my tips on how to master the art of the winter staycation.
Splurge On Your Environment
As mentioned before, I'm not really one to shell out tons of money on a hotel or resort for a long vacation, let alone one that spans just two nights. And, with rooms starting at about $650 a night, I never could justify a stay at the Inn. That said, I'm definitely singing a different tune now. I believe the experience is certainly worth the price, as it allows access to the property's extensive activities calendar (which includes private yoga, bike tours, soap-making classes, on-site gym, and facilitated equine learning). Also, the accommodations are about as luxurious as you can imagine and a place just a stone's throw from a multitude of bars and eateries, shopping, hiking trails, and charming downtown Ojai.
If you really want an elevated staycation, I believe luxe resorts and hotels like the Inn are certainly worth the investment. Do your research on the property and make sure it's equipped and includes the activities and environment that best make for total relaxation and rest. In the end, you're truly investing in yourself and your time, which is always worth the splurge, right?
Pack With Comfort In Mind
Staycations should be about convenience and comfort, so one should pack accordingly. If I have to pack something larger than a carry-on suitcase, I'm not happy. And while a spring or summer staycation is easier to prep for as it includes lightweight items like swimsuits, breezy sundresses, and sandals, winter wardrobes prove a bit trickier. In mountainous Ojai, temperatures can hit the 30s and 40s in the winter, so bundling up and layering is essential. That can make packing a bit stressful, as I always want to ensure I have everything I need to keep me cozy and warm. Which means I wind up packing several heavy coats, multiple pairs of clunky boots, sweaters, and everything else that will keep the icy wind from penetrating my clothes. Come to think of it, this might be the reason I avoid winter staycations in the first place.
However, I discovered that packing multi-purpose essentials and paring down your heavier items is the key to hacking a staycation wardrobe. Instead of heavy denim and bulkier fabrics, I opted for mostly comfy cotton athleisure that could be both layered and dressed up or down, depending on my activity. I recently discovered TravisMathew's newly launched women's collection, complete with "cloud-like" separates that range from sweatpants and sweatshirts to buttery tees. I like that the simple and sophisticated silhouettes and neutral colorways make them so versatile and ideal for trips like this.
For wine- and olive-oil tasting excursions near town I went with easy sweatpants, soft henley or waffle long-sleeve tops, lightweight hoodies, and sneakers with a trench coat or puffer jacket thrown on top for added warmth. For an indoor private yoga session, I went with a soft tee and leggings. In the evening, when I wanted to dress things up a bit for dinner or drinks on the property, I'd pair the same easy long-sleeve or basic t-shirt with wool slacks, a weighty statement coat, and comfy kitten heels. I packed one crossbody handbag that complemented both my casual and more elevated ensembles.
Let Nature Be Your Guide
A winter staycation likely conjures up cozy cabin vibes or days spent indoors sipping hot toddies and playing board games or bingeing movies. But, if you pick the right locale, you can find a plethora of things to do outdoors that won't lead to frostbite. Ojai was ideal in that it landed me right smack in the middle of a variety of my favorite pastimes: wine- and olive-oil tasting, Jeep tours through the rolling hills, and hikes around the 220-acre property while sipping on a hot chai latte. The quiet, snow-free mountain landscape was exactly my speed as it allowed for lots of low-key activities. If more adventurous hobbies are your preference, perhaps a snowy resort in Salt Lake City or Aspen is your jam. Either way, consider the natural surroundings of your winter staycation and make sure they align with your interests.
Eat Well
Much of my travel is food-motivated, and staycations are no exception. I love that the Inn is home to a variety of dining experiences, with about seven bars, cafes, and restaurants available for guests. Winter getaways should be rife with seasonal comfort foods, so I make sure the eateries nearby serve just that. I'm all for healthy eating, but when I'm on vacation, I have every intention to indulge. Decadent steak dinners, indulgent filling breakfasts (the chocolate chip pancakes were a religious experience), and prime cocktail and wine offerings were my main priorities, and Ojai delivered.
At the end of my three-day stay, I left rested, happy, and with a very full stomach. Although I never stepped foot in a pool or on a massage table, I felt the relaxation of a spa weekend in Palm Springs. The moral of the story here is that winter staycations can certainly be done well and without too much hassle, you just need to know where to seek them out.