What Dating During Divorce Has Taught Me About Myself
Silvia Olsen/Shutterstock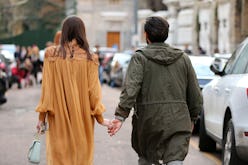 Breakups of any kind are difficult. However, it seems the ante is often upped when it's in the form of a divorce. Losing a spouse, someone you imagined doing life with, presents a unique type of heartbreak and frustration. That said, for many, divorce is also a time of reinvention and self-discovery. Celebrity nail artist Alex Jachno is in just such a season of life. In the midst of her current separation, she's seeing life, love, and herself in a new light. And while her re-entry into dating amidst a divorce hasn't been easy, a new hope for what's to come is definitely burning bright.
To start, I should be clear: I don't regret my marriage or the divorce process I'm currently in. In going through it all, I'm coming to understand things in myself that need to change and that I need to address. I'll always look back on this experience as a good but hard lesson that I needed to learn to figure out what I actually want and need in a partner.
In retrospect, I don't think my husband was ready for the responsibility of marriage or juggling big life changes. He never felt like he could be himself with me and his uncertainty in our relationship made me feel insecure about myself and out marriage. I felt like I had to be this perfect person, because, if I wasn't, he wouldn't want to be with me. The things that came naturally to me — doing little thoughtful things for my husband, entertaining, cooking, being social — just weren't enough or even right, and I kind of lost my identity in those years we were together. It got to the point where we couldn't be honest with each other and both of us were walking on eggshells because we just couldn't be our true selves together — and, eventually, it just fell apart.
In separating, I knew my first primary focus was healing and doing some serious soul-searching to figure out how I got to this point and how to do things differently in the future — not to mention what I truly want and need from a partner. To achieve this understanding, I had to first do some healing and reconnect with myself. That included going to therapy regularly and facing my issues with insecurity and people-pleasing head on.
While therapy has been incredibly helpful in restoring my confidence and sense of self, another thing that's been game-changing is the fact that I'm living alone for the first time in my life. Being on my own is truly helping me get to know myself again — even in the little things like decorating my place however I want, wearing whatever I want, and changing up my look on a whim. (I recently colored my hair orange and pink because I felt like it!)
This time alone has also obviously given me some perspective on the relationship front. Now in terms of dating again, let me clear in that I'm not doing much of it just yet. In fact, for a long time after my husband and I separated (it's been almost a year), I just didn't feel ready to put myself back out there. If I was approached by someone, I would say I was married and that my ring was in the shop. I still had this loyalty to my spouse and I felt I needed to close a door before I opened another one.
That said, I'm now coming around to and flirting with the idea of actually going out with someone but, so far, my experiences have been a bit awkward and nothing I would want to pursue. (I recently gave my number to someone and had to quickly ask him to stop calling and texting because he was annoyingly persistent!) That said, I've finally reached a point where, if a nice guy asked me out on a date, I would absolutely say yes — with some ground rules in place, of course.
This time around, I'm obviously approaching relationships and dating very differently than I did in my 20s (and before marriage). For starters, I'll be much more aware of any red flags that come up early on, like signs of emotional immaturity, insecurity, and lack of depth. I'm also not basing my relationships on change, which is something I did for a long time. People always evolve, but I'm not going into a romantic situation or marriage assuming someone will change for me or because of me.
I also feel I have some semblance of criteria that I'd like to stick to as I put myself out there in the dating world. I know now that things like faith, family history and dynamics, emotional depth, and having someone who truly understands and accepts me is key. I'm a pretty deep thinker and very in touch with my emotions, so I need someone who can handle that and help me process things. In that vein, being open to therapy is a non-negotiable for me now, as well! While some differences are great, I believe it's important (for me anyway) to have some fundamental similarities, especially in terms of lifestyle. I'm very outgoing and love to travel and try new restaurants and need a companion who's always game.
Although I have no idea what's to come and what this year will bring, I feel hopeful. I'm grateful for what's transpired in the past, because it's awakened something in me. Someone told me recently that, sometimes, you have to go through the trials and hard times to find and become the best version of yourself. I've finally learned to let go of control and let myself just be me, and it feels really good.