Victoria Beckham's Simple Hack For An Instant Mood Boost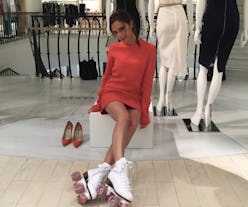 Victoria Beckham has gained some wellness wisdom since her days as an LBD-clad Spice Girl. The posh fashion designer has ditched stilettos for sneakers, tracks three miles by 7 a.m., and eats omega-3-packed salmon every day for a radiant complexion.
She's also figured out a simple—but effective—way to make herself happy (aside from being married to David Beckham).
To pep up her mood, all Beckham does is throw on some red. "Now's a time to be positive and optimistic," Beckham says in a recent interview with Elle. "For me, when I wear color, that's how I feel. Red is a strong, happy, optimistic color, and I like having fun with it, you know?"
To read more, check out the full article on Well & Good.