The Surprisingly Simple Fitness Tip You Need To Follow, According To A Celebrity Trainer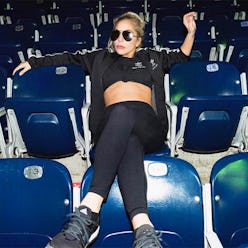 If you've ever wondered how much effort goes into celebrity workouts, wonder no more, because celebrity fitness trainer Harley Pasternak is here to reveal it all.
Harley works with Ariana Grande, Lady Gaga, Kanye West and Adam Levine (among others), so you might want to pay extra attention to what he has to say. He told Footwear News that the key factor to staying toned and healthy is hitting enough steps during a day (12,000 is the recommendation). After that comes sleep and then diet.
"There's nothing to compensate for lack of steps. Put 1 mph on a treadmill and just walk and move. It's about the pendulum moving back to the center," he said. "We've gone so extreme with our approach to fitness. You don't need to do P90X or Insanity. I train 50 of the most amazing bodies in the world, and none of them do that."
If you're looking to amp up your step count, Harley actually advises against popular group fitness workouts like spin classes, which might come as a surprise to fans.
"People are lonely today. People miss a sense of community. You see group fitness making a big surge because people want to be part of something," he said. "Think of how big spinning is. It's the dumbest thing in the world. It's a stationary bike."
Instead, the fitness pro said to make the most of the time you have—but don't overdo it!
To read the full article, head to InStyle.