This Secret Starbucks Matcha Drink Is Taking Over Instagram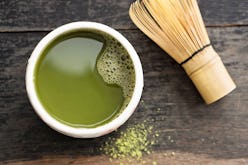 You know that Starbucks now serves almond milk and just introduced avocado on everything. But did you realize that the buzz-boosting chain's been keeping a secret stash of matcha behind the counter for literally years?
"We have a high-grade matcha sourced straight from Japan, shade-grown and expertly ground," says Megan Adams, a Starbucks communication specialist. The coffeehouse originally started stocking it to make its Teavana green tea latte, which Adams points out is on the menu, but she adds that there are over 170,000 ways baristas can customize an order. (Her number, not ours—but trust her on this.)
Overwhelmed at the sudden options that just entered your Starbucks world? There is one order in particular that's been taking over Instagram, dubbed the "matcha pink drink." And Adams is revealing the off-the-menu blend: "To order it, ask the barista to make you a strawberry acai refresher—also not on the menu, but they'll know what you mean—and ask for coconut milk instead of water, and for the matcha to be layered on top of the coconut milk."
Sure, it's a complicated order—but if people are asking for no-foam, extra-hot, double shot cappuccinos, there's no shame in requesting a hit of the green stuff.
Colorful drinks and foods are seriously having a moment. Pair this Starbucks drink with rainbow unicorn food. Not on-board with matcha quite yet? Kristen Bell traded it for coffee a year ago and hasn't looked back since.