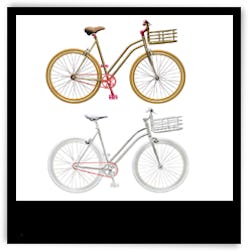 The weather is warming up, which is everyone's cue to spend more time outdoors! If you need any additional incentive to step out into the sun—slathered in SPF, of course—Martone Cycling Company has you covered with their just-launched collection of bicycles.
Designed by Lorenzo Martone, this series of two-wheelers merges fashion with functionality for the chicest cruising imaginable. Produced in both men's and women's frames, each bike comes equipped with a built-in basket, signature red chain and a state-of-the-art duomatic gear system, which self-adjusts and switches gears in unison with your speed. Feeling motivated to get moving? Trade out your typical transportation for one of these sleek city cyclers (you have five bold colors to choose from), and you'll ride off into the sunset in style!
Availability: Martone Cycling Co. Bicycles ($899). For additional information, visit Maronecycling.com.