6 Healthy Snacks Khloé Kardashian Swears By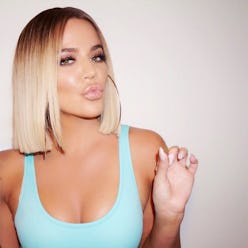 Sure, airports might be healthier than ever, but it's still awe-inspiring how Khloé Kardashian is able to prioritize nutrition despite her busy schedule jet-setting around the globe. Her secret? An arsenal of tasty snacks she can't live without (plus her ability to make fast-food faves, like Chipotle, healthy).
"God knows I've really changed the way I eat on a daily basis and my entire approach to healthy living, but snacks are consistently tricky," the reality star wrote on her website. "Whether I'm traveling or just have a busy day on the go, I've learned that keeping healthy snacks in my purse, travel bag or my car (and even around my house for those moments of weakness!) is important to staying on track."
Kardashian's faves include bites that are rich in protein fiber, and natural ingredients. Extra points for satisfying options that travel well, like Sabra's Dipping Grab and Go pretzel-hummus combo.
To read the full article visit Well + Good.