Jessica Seinfeld Says You Can Cook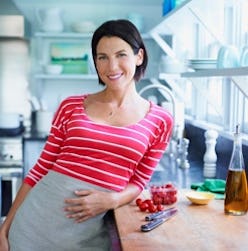 Do you know your way around your closet, but tense up when it comes to navigating the kitchen? Us too. That's why we're thanking our lucky stars for Jessica Seinfeld and her new publication, The Can't Cook Book. Filled with photos and easy-to-follow recipes, the glossy hardcover is sure to become just as cherished as your fashion-y coffee table tomes. Check out our interview (recipe included!) with the chic chef below, then scoop up a copy of The Can't Cook Book just in time for the holiday hosting season.
On where she learned her cooking basics…
"I learned from post-it notes! My mother needed help getting dinner ready for our family while she commuted home from work. So, she left me little notes with instructions to get that night's meal started. She taught me the basics at a very young age and it was trial by fire from age 10."
What inspired her to write The Can't Cook Book…
"So many of my friends are Can't Cooks. My husband is a Can't Cook. I was fascinated by all of these people in my life who are successful in so many ways, yet feel terror and shame about not being able to cook. I really just wanted to solve this problem for them."
Her beliefs on cooking…
"I see it as something anyone can learn how to do. It is a basic life skill. It just takes doing it a few times, getting comfortable and then practice. You don't have to be great at cooking – you can be competent without a lot of effort but still reap many layers of benefits."
How she keeps guests on their toes during the holiday season…
"I change my menu every year because I like to try new things. Although I always make the same pies: apple, pecan, pumpkin pie, and buttermilk merengue pies. Sometimes I brine my turkey and swear by it, other years I do a different technique and swear by that one. I always choose crowd-pleasers that are uncomplicated and only require a few ingredients. I also make a menu and a cooking/baking plan at least a week in advance and shop before the stores get crazy in NY."
Her advice for making a holiday feast less daunting…
"Practice what you are going to make a couple of times earlier in the week and enlist the help of friends. Lots of people especially enjoy prepping and lending moral support when wine or cocktails and good cheer are involved, pre-party."
Common kitchen mistakes that she sees as easily preventable…
"There are easily corrected mistakes people make that can change their whole experience. People don't read the recipe through and they don't start from a calm, well-planned place. Too often they choose overly complicated recipes that include too many techniques, too many pot and pans, and too many ingredients. There is beauty in simplicity, especially when it comes to cooking."
On the benefits one gets from being a master of the kitchen…
"You gain control over an area of your life which ends up saving you money and ensures you are eating more healthfully. You get to be creative and expressive in a way that is individual and unique to you, but you can also follow specific guidelines to keep you organized. I believe cooking works both sides of the brain."
The essential kitchen tools and accessories every new chef should own…
3 knives (chef, paring and serrated), a large cutting board, a pepper mill, some good pots and pans, tongs and a few wooden spoons.
Her kitchen mantra…
"Turn up the music, drink a glass of wine, start off organized, read your recipe all the way, and don't take food so seriously. There is always the next meal."
One of her favorite, holiday-ready recipes from The Can't Cook Book…
Roasted Sweet Potato Coins
Ingredients: 2 T. dark brown sugar 1/2 tsp. kosher salt 1/4 tsp. ground cumin ¼ tsp. freshly ground black pepper 3 medium sweet potatoes (about 1 ½ lbs.) 2 T. e.v. olive oil
Tools needed: cutting board, chef's knife, rimmed sheet pan, small bowl, measuring spoons, kitchen timer, paring knife.
1. Heat the oven (with the oven rack in the middle) to 425 degrees F. In a small bowl, combine the brown sugar, salt, cumin, and pepper (about 12 turns on a pepper mill).
2. Wash the sweet potatoes (no need to peel). Make sure you have a firm grip on the potato, keeping your fingers out of the way, then cut it crosswise into 1/2-inch-thick rounds. A. Transfer to a rimmed sheet pan. Drizzle with the oil and sprinkle with the brown sugar mixture. Using your hands, toss to coat. B. Spread into a single layer without overlapping. Roast until the potatoes are tender and can be easily pierced with the tip of a paring knife, 25 to 30 minutes.
Copyright © 2013 by Jessica Seinfeld from THE CAN'T COOK BOOK published by Atria Books, a division of Simon & Schuster, Inc.