How Jennifer Aniston's Yoga Instructor Gets The Star's Body (And Mind) In Shape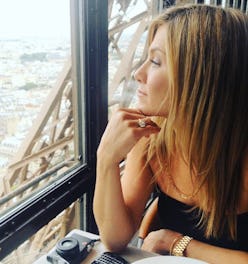 It's a well-known fact that Jennifer Aniston is healthy and fit. The star's revealed to us that she loves doing an intense workout in the morning—like a spin-yoga class, interval training, or climbing at Rise Nation.
But, according to her yoga instructor Mandy Ingber, WTOP Radio reports, Aniston's radiant beauty and toned bod comes from more than simply being active—the key is that she works both her body and mind.
"Jennifer Aniston does, of course, have an incredible body, but I think part of what people respond to with her is that she seems very comfortable in her own skin; she seems healthy and holistic," she says. (Word.) Ingber, who just released a book called Yogalosophy for Inner Strength, tells WTOP that anyone can have a fit body and positive attitude, a la Aniston. And that it's totally reachable.
Check out the full article here for the three wellness practices that Jennifer Aniston uses for a super balanced, comfortable-in-her-own-skin life.