These Health Trends Will Be Huge In 2016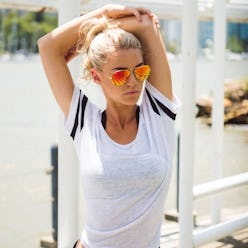 It seems every year there's a new superfood to know about and a workout craze to try. To help you stick to your wellness resolutions all year long, we're sharing 2016's nutrition and fitness trends sure to make you look amazing and feel even better. Here, we tap the top trainers and nutritionists for their predictions.
What's Trending In Wellness
Bergen Wheeler, Creator Of Core Fusion Extreme
"Certainly the wave of high intensity training is going to stay prevalent, but I'm also seeing an influx of old-school trends like kickboxing. In 2016, there's a real push for functional fitness and a simpler approach. People want to get in and get out but still feel like they got a good workout with lots of cardio."
Lacey Stone, Trainer At YG Studios
"Fitness isn't just about working out and eating right anymore, it's a lifestyle. Going to work out today is as popular if not more popular than going to the bar. In 2016, a strong, fit woman is the new sexy."
Lorna Jane Clarkson, Founder & Chief Creative Officer, Lorna Jane
"It's no secret that activewear is everywhere. Whether you're working out or on a weekend coffee date, there's nothing quite as functional. In 2016, women are busier than ever and their wardrobes are reflecting that, with apparel that's chic, casual and comfortable. Athleisure will even be recognized by Merriam-Webster this year as a new word."
Rachel Drori, Founder Of Daily Harvest
"After decades of removing food groups from our diets, the current trend of traditional eating and healing feels new. It's a return to the wellness methods our great-grandparents relied upon, like whole, real, unprocessed foods and fermentation.
I predict the superfood of 2016 is matcha. My favorite way to use it is in an at-home matcha smoothie."
Brooke R. Alpert, Nutrition Expert and Author Of The Sugar Detox
"Superfoods are like magic elixirs—they contain so many powerful health benefits. What's amazing is that we are continually discovering new foods and their potion-like abilities to provide protection to our bodies.
As unappetizing as it sounds, bone broth provides you with an extraordinary amount of protein and minerals such as glycine (a key component in the body's detoxification process). Proline and gelatin keep your skin aglow and flawless. You can slurp the broth as is, or use it in sauces and stews!"