Gwyneth Paltrow Is Now Officially Selling The Secret To Eternal Youth And Beauty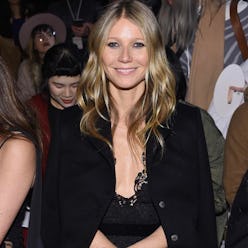 Like some of you, we're more likely to trust Gwyneth Paltrow's health advice than we are to trust our own doctors—probably sad, but mostly true. Knowing this, Gwyn and her lifestyle site Goop have launched Goop Wellness, a vitamin collection created in collaboration with various medical practitioners. As with everything Goop, the magic is in the marketing, and we must confess that these are some of the cutest supplements we've ever seen.
Case in point: the names of the vitamin pouches. Dr. Amy Meyers created "Balls in the Air" to aid in overall health; Dr. Alejandro Junger developed "Why Am I So Effing Tired" for those suffering from adrenal fatigue; Dr. Sara Gottfried came up with "High School Genes" (yes, please) to boost blood sugar metabolism; lastly, "The Mother Load" is the work of Dr. Oscar Serrallach and combats post-natal depletion in new moms. According to Goop, the collection came to fruition because the site found itself inundated with confused readers who couldn't figure out which supplements to take, when to take them and what for. We will definitely be ordering "Why Am I So Effing Tired" ASAP, while we guzzle our morning coffee in a less sophisticated attempt to wake ourselves up each morning. You can likewise order yours on Goop.