The Free Sleep App That Nicole Kidman Swears By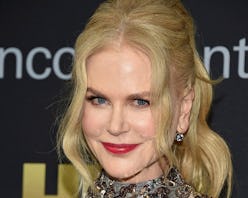 Nicole Kidman has presented an unwavering public image throughout her distinguished career—one of style, class, and quiet sophistication. So when I sat down with the actress at a Create & Cultivate brunch in partnership with Neutrogena in Los Angeles recently, I was expecting to meet a posh and measured woman. Sure, she takes her approach to wellness seriously, saying "my father was a psychologist and he would always say, you're responsible for your emotional health, so each individual can make choices that make them feel better and behave in a better way—and we choose how we manage that."
But as Kidman kicked off her strappy metallic silver sandals and chatted with me while barefoot about essential oils, saging the house, and tending to her rose garden, it hit me: the Aussie is far more bohemian than I could have imagined. When I asked if she considered herself an "Earth Mother of sorts," she laughed, saying, "Keith might say I'm an Earth Mother, but I don't cook!" Kitchen skills or not, I'm with Urban on this one.
Essential oils
"I use aromatherapy in my everyday life," Kidman says. "I'll add essential oils to the bath: Eucalyptus if I'm not feeling well or lavender, bergamot, or jasmine—I love a good scent," she says.
A sleep hack
"Sleep is so important. I use this app intermittently when I have jet lag," Kidman says. Try: Sleepio Sleep Improvement App.
An SPF 50
"When I was a kid, I wore straight zinc to the beach—and would get made fun of. Now I use this sunscreen even while filming," she says. "I keep it in handbags and I keep it by my sink, I keep it by the pool. I have it on hand because I'm kind of a bit dreamy as a person and I can kind of forget things and lose things, and I travel a lot so I make sure I have it available."
A swim towel
"I'm an outdoor girl. I do a lot of sport and I like being outdoors. I love being around nature," the actress says. One way she practices self-care? By connecting with nature and going beachside when possible. "I get a lot of joy from being in the ocean," she says. "When we were filming Big Little Lies in Monterey, I set out to go swimming in the ocean. Meryl [Streep] was saying, 'it's way too cold for that.'" Kidman was undeterred, however. "I went in without a wetsuit."
More from Well + Good:
WTF Is Fasciayoga? I Tried It To Find Out
This Hair Product Could Be Secretly Giving You Forehead Pimples
The Latest Digestion Hack You Need To Know About: Soaking Basil Seeds