What A Celebrity Trainer Stocks In Her Fridge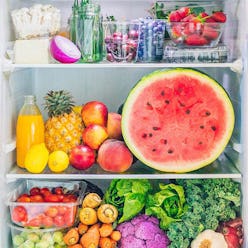 Busy Philipps' trainer and LEKfit founder Lauren Kleban's grocery list is insanely relatable.
For Lauren Kleban, the petite-in-size-but-not-personality trainer who launched an army of obsessives like Busy Philipps and Emmy Rossum with her LEKfit fitness concept, her L.A. home isn't just for her husband, two children, and two dogs; it's also her studio. You could say the woman has made it her own little sanctuary of wellness.
While the sweat sessions (we don't mean that lightly; have you seen Busy's daily dripping Instagram stories?) happen on the trampoline, Kleban tells clients that the real secret to feeling healthy is what happens in the kitchen. "Find foods that make your body feel good and make your body work the way your body should work, without ever depriving yourself," she tells us from behind her navy blue kitchen island. It's that balance—she can't live without Sockerbit pretzels or Sakara Life tinctures—she uses when stocking her pantry and making her grocery list.
For the full grocery list, check out the original article on Coveteur.