The Best Fitness Trends Of The Year, So Far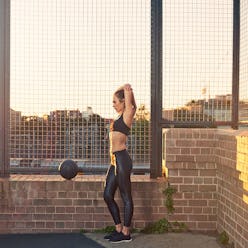 Nothing says summer more than beach days with good reads, barbecue parties with songs of the summer on repeat, and margaritas at 3pm on a Friday (bless summer Fridays!). What it doesn't really say is working out in a mostly empty gym (seriously, is it only my gym that is never more than a quarter full in the summer?) or spinning in a windowless dark lair. Unless your workout involves a surf session or paddleboard yoga class, it can be hard to motivate yourself to work out in the summer when seemingly everyone you know is out on outdoor patios living their best #RoséAllDay life.
Which is why to re-motivate you to continue working toward your fitness goals, and to also remind you of the few good things that have taken place this year, we are taking a look at all the best fitness trends of the past eight months. Maybe it's just us, but nothing gets us more hyped up to work out than an unconventional class … or a new pair of stylish leggings.
We only have four months left until the end of the year, which means it's about time to put down that rosé and pick up those weights again and try to finish strong, with our fitness resolutions intact. From new classes to buzzy products and fashion-forward apparel, find out what the biggest workout trends of 2017 are, so far.
Mindful Workouts
A step up from yoga, mindful workouts unite the heart-pumping intensity of barre and pilates with breathing exercises of meditation practices. For instance, cult workout The Class by Taryn Toomey combines repetitions of muscle-shaking exercises, ranging from burpees to squats and jumping jacks, with mantras and at-the-top-of-the-lungs screaming (okay, so maybe not quite meditation) for a hybrid that's as good for your abs as is it for your soul and mental state. For even more of a high-intensity boost, studios like circuit of Change offer bootcamp-style interval training cushioned by meditation at the beginning and end. If you're not convinced, there's now even a Crunch class that combines HIIT with yoga and relaxation to help improve sleep patterns.
On-Water Workouts
The '90s are back with water aerobics making a comeback. Well, kinda. Actually, not really. But there are plenty of updated workouts that are being taught in, and even on, water. Take, for example, AQUA, a studio that only offers underwater spin classes, or David Barton's new Holy Water class, that takes floating mats to the pool for 45 minutes of in-and out-of-water yoga, or Z Club NY's Aqua Zumba, which sees high-energy dance moves taken to the water for maximum resistance. Hey, your mom might want to join, too.
Acrobatic Workouts
Trampolines, slacklines, aerial fabrics—it's as if fitness gurus looked to the circus to come up with the newest crop of workout trends. Classes like trampoLEAN use a childhood favorite, trampoline, to get calories burning and abs firming, while this summer's newest obsession, slackline fitness, is having trainers everywhere setting up flat lines for their clients to exercise on top of. While aerial yoga had a newsworthy moment a few years ago, newer iterations (AntiGravity AIRbarre, Lyra aerial hoop class, and others) are taking more and more traditional classes to new heights—literally. The draw: Most of these unconventional workouts are high on the fun factor, which is why you might not notice how hard they work your muscles while leaving less stress on your body and aiding with alleviating tight muscles. Seriously, trampoline workouts can do wonders for those with past injuries.
Fitness Retreats
People are now going on vacations to work out (no, really, vacation retreats are a thing; fun fact: "thing" has been recently added to the Oxford English Dictionary). Whether it's going on a solo adventure to Nicaragua to spend eight hours a day learning to surf or traveling with a group of friends to wine and dine and do yoga in Napa Valley, people are signing up for weeklong retreats that align with their fitness interests. "Wellness is an all-encompassing part of our culture today. Instead of partying and indulging, people go on vacation to refresh and recharge," explains Jennifer Bandier, founder of fitness mecca Bandier. "There's no better way to do it than a fitness retreat, which provides some structure and guidance that maximizes rejuvenation."
For the full list of trends and the original article, visit Nylon.