Amy Schumer's New Book Reveals Some Crazy, Surprising Wellness Habits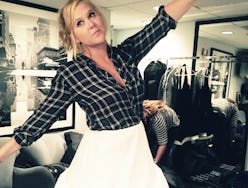 When it comes to Amy Schumer, one thing's a given: She never holds back. Whether she's speaking out about body-shamers with celeb pal Lena Dunham or penning a candid response to Glamour for calling her "plus-size" (okay, and speaking candidly about her lady parts on her show Inside Amy Schumer), we expect to hear the star vocalize things we only keep inside of our heads.
But before the release of her first book, The Girl With the Lower Back Tattoo (which just came out), we never knew just how the outspoken comedian became so confident in herself. When we attended her talk at the Barnes & Noble in New York City's Union Square, Amy (who was interviewed by Abbi Jacobson of Broad City) discussed how she likes to remain positive, no matter what.
"I always try to look at the good in the situation and remind myself that no matter what happens, I try to remind myself that everything is going to be okay," she said.
And though Amy makes clear in the book that she's not trying to give anyone advice, Abbi said she thinks that there is actually a lot to get out of it. Amy responded, "I get very vulnerable and honest when I'm sharing these not-so-great parts of my life. My positive attitude is what makes the overall message inspirational."
The star also discussed how important it is to be vulnerable—it's part of being a human, and she wants to spread that message of positivity, but not lie to her fans about where she's come from and what she's experienced.
Photo: Instagram/@amyschumer
1. She's a huge believer in meditation. We knew the star practiced meditation, but not to this extent. In her book, she admits that when she's shooting, she rushes to her trailer or some other quiet place to meditate, rather than joining her colleagues for a bite. "I need to completely shut off. This time spent silently is like food to me," she writes. And now we know what her practice looks like: "I meditate twice a day for 20 minutes each time. It helps clear my mind and get rid of stress, and it gives me energy." Inspo to step up your zen game, anyone?
Photo: Instagram/@amyschumer
2. Though she may not act like one, she's an introvert. Amy dedicates a whole chapter to her need to have alone time. Yet she also notes that as a performer—especially a female one—you're expected to be "on" all the time. "I think all little girls are trained this way, even those who aren't entertainers. Women are always expected to be the gracious hostess, quick with an anecdote and a sprinkling of laughter at others' stories," she writes.
But she admits that even during social functions, she needs a few minutes to retreat away from the crowd—whether to the bathroom or on a walk—to be alone. "So if you're an introvert like me, especially a female introvert, or a person who is expected to give away your energy to everyone else on the reg, I want to encourage you to find time to be alone. Don't be afraid to excuse yourself. Recharge for as long as you need." Word, Amy.
For more wise ways Amy stays positive, no matter what happens, check out the full article here.