Spicy Sweet Potato Hummus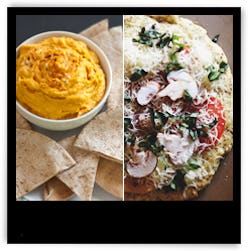 Ingredients:
2 medium sweet potatoes
3 tablespoons olive oil
2 cups cooked chickpeas (or one can of chickpeas, rinsed and drained)
3 tablespoons tahini
3 cloves garlic, peeled
Juice of 1 lemon
Zest of 1/2 lemon
Ground sea salt, to taste
1 1/2 teaspoon cayenne pepper (start with less, season to taste)
1/2 teaspoon smoked paprika
1/4 teaspoon cumin
Directions:
1. Preheat oven to 400 degrees. Bake the sweet potatoes on the middle oven rack or in a baking dish for 45 minutes to an hour. They should yield to a gentle squeeze when they're done baking.
2. While the sweet potatoes are cooling, toss all of the other ingredients into a food processor (if you're sensitive to spice, you may want to save the spices for last and add them to taste). Once the sweet potatoes have cooled enough to handle, use a knife or your fingers to peel the skin off of them. Add the sweet potatoes to the food processor.
3. Blend well, and serve! I garnished mine with a light sprinkle of cayenne pepper and sesame seeds.