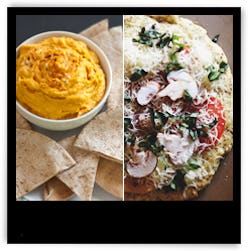 Ingredients:
2 to 3 very crispy and slightly tart apples, such as honeycrisp or granny smith
1 teaspoon lemon juice
3 tablespoons unsweetened creamy natural peanut butter
1/4 cup toasted pecans*
1/4 cup flaked unsweetened coconut
1/4 cup semi-sweet nondairy chocolate chips
Directions:
1. Remove the core from each apple and slice them thin (about 1/4 to 1/8 inch thickness), using a sharp knife.
2. Arrange onto a plate so that each apple has a good amount of surface exposed. Lightly coat with the lemon juice.
3. Melt the peanut butter–-using a small pan or in the microwave–until it is very runny–and then drizzle it onto the apple slices to evenly cover with thin lines of peanut butter.
3. Finally, top the apples and peanut butter with the pecans, unsweetened flaked coconut and chocolate chips. Eat these with your hands, just like real nachos!
* Recipe Note: To toast the pecans, simply preheat your oven to 375 ºF. Spread the pecans in a single layer onto a baking sheet and bake for 7 to 10 minutes, or until fragrant, flipping once during baking time.