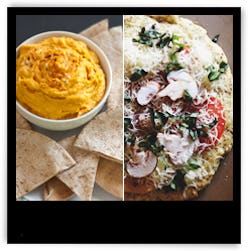 Ingredients:
COCONUT CRUST:
2 cups shredded mozzarella cheese (plus more for topping)
2 eggs
2 tbsp ground flaxseed meal (I use Bob's Red Mill)
2 tbsp coconut flour (I use Bob's Red Mill)
1/4 tsp baking soda
1/4 tsp italian seasoning (optional)
Pinch of salt
TOPPING:
1 heirloom tomato, sliced thinly
1/2 -1 cup mozzarella cheese
1 cup sliced mushrooms
Fresh basil
Directions:
1. Preheat oven to 425ºF. Mix all crust ingredients in a medium size bowl until well combined.
2. Grab a pizza dish or a cookie sheet lined in parchment paper and spread the crust mixture on the pan as thinly as possible using the back of a spoon.
3. Reduce heat to 400ªF and bake the crust on the top rack for about 15-20min, or until it starts to look golden. Remove from heat and add your desired toppings on crust.
4. Bake for a few minutes until the cheese is melted on top. Cut into little slices and serve immediately!