9 Healthy Food Swaps You'll Want To Try ASAP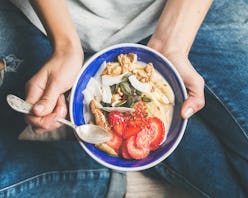 Healthy eating doesn't mean sacrificing everything you like to eat for cardboard-tasting health food. While thinking about starting to eat healthy can seem like a huge hurdle, it doesn't need to be. Swapping out the things you eat every day for healthier versions can be a great first step toward a healthier lifestyle. You won't even notice that you've switched out the foods you usually eat with these healthy alternatives.
1. Chia Seeds
These little nuggets of health are practically tasteless, and can be added to so many different recipes. Their greatest benefit, however, is that they are rich in fiber and are filling. This allows you to eat smaller portions, and can be incorporated into every kind of dish, from breakfast through dinner.
2. Spinach
This humble vegetable, similar to chia seeds, is very easy to throw into all kinds of dishes for a vitamin C, K, and A boost. Their flavor can be easily masked in smoothies (throw in a half-banana with peanut butter), omelettes (if you can't stand the leafy taste, chop a large handful up small — the heat will wilt the leaves), and more. You can also toss a handful into pastas and mix into salads to get an extra serving of greens in for the day.
3. Salad Dressing
This swap can make a huge difference on your waistline, and offers the chance to get creative in the kitchen. Using creamy store-bought dressings can ruin all that hard work of eating a salad chock full of vegetables in the first place, because they are loaded with preservatives and unnecessary calories. Instead, shake up a dressing with olive oil and a vinegar of your choice, and add as many herbs and dried or fresh spices as you like! Oregano, garlic powder, onion powder, lemon pepper seasoning, lemon, and chili flakes are all fair game.
4. Lemon Water
Speaking of lemon, this yellow fruit is one of nature's greatest detoxifiers. Squeeze the juice into your water anytime you're out at a restaurant, working out, or just at home. Whether you drink your water warm or cold, you'll get all the great benefits of drinking this refreshing beverage any time of day.
5. Popcorn
Chips are a big vice for myself and many others, but the sodium content is often enough to give a horse a heart attack. Fortunately, popcorn is a lower-calorie option, and can be dressed on its own without succumbing to the movie-theater variety. Lucky for us, you can indulge in large portions of this chip substitute as well — three cups of unadorned popcorn is only around 100 calories! Add chocolate to make a sweet and salty dessert and keep the salt/butter to a minimum if you want to dress it up.
6. Greek Or Full-Fat Yogurt
Can't imagine tacos or a dip without the cool fattiness of sour cream? Swap it with Greek or full-fat yogurt! The protein and healthy fats provide that unctuous taste without all the calories of sour cream. Mix it into dips if you need a creamy bite, stir into chicken or tuna salad, and enjoy alongside your favorite Mexican food.
7. Oatmeal
Instead of sugary cereal or a bar first thing in the morning, toss a few instant oatmeal packets in your bag for an easy on-the-go breakfast. Ask for hot water at your coffee shop and mix into an empty cup, or simply heat at work for an easy meal. If you're using the sugary variety, try and pick out as many of the sugar clumps as possible while they are dry — you won't even miss them.
8. Chocolate + Fruit
If you just need a taste of something sweet at the end of the night but only having 1-2 squares of chocolate isn't enough, slice up a fruit like an apple or banana and dip into melted dark chocolate. You'll up your servings of fruit for the day, but will have just enough sweetness to cap off your meal and fill you up.
9. At-Home Granola
If you miss that crunchy oat bite on top of smoothie or acai bowls, try making your own granola at home! It's much simpler than you think, and one batch can last a few weeks in your cabinet. There are plenty of recipes online, but we're preferential to this, this, and this.
More from The Everygirl:
What You Need for the Ultimate Summer Road Trip
How to Successfully Make a Career Change, as Told by People Who Have Done It