The 8 Healthiest Items On Meghan Markle's Wellness Résumé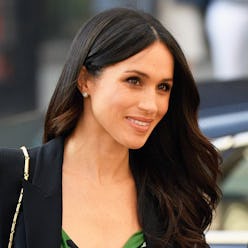 Meghan Markle started her wellness journey long before she was set to marry into the royal family. Whether she was discovering new meditation techniques or skin-care practices for a flawless complexion, she's been a healthy boss babe for many years now. And given her lengthy wellness résumé, Markle is sure to beat pre-wedding stress (her big day is less than a month away!). Hey, who knows? Her healthy habits might even rub off on her new Kensington Palace crew. Here are eight of the healthiest items on Meghan Markle's wellness résumé.
1. The Megaformer
Hitting up Pilates on the reg is one way Markle stays so strong. In the past, she's talked about workouts at Pilates Platinum—a studio in Los Angeles—which use the Megaformer to offer an insanely effective burn: "Your body changes immediately. Give it two classes, and you'll see a difference," she says. Though Markle might not be able to visit the hot spot anymore since she no longer lives stateside, she's been spending a lot of time with Prince Harry at KX studio in London, which offers similar classes.
2. Homemade Meals
One of Markle's favorite date-night activities is to make homemade meals with Prince Harry, and you better believe they're healthy: She's been known to keep their home stocked with with fresh veggies from Whole Foods.
3. A Regular Yoga Sesh
Markle grew up with a yoga-instructor mom, so it's no wonder she's a fan of the practice. In a past interview, she mentioned she loves "an intense vinyasa class"—to hip-hop music in a dark, candlelit room!—and once said "most things can be cured with either yoga, the beach or a few avocados." (She's definitely on the money with that statement.)
4. Coconut-Flavored Smoothies
When Markle is craving a smoothie, she likely turns to one of her go-to healthy blends: a coconut-flavored cocktail of frozen blueberries, cinnamon, chia seeds, coconut water, almond milk, and a vanilla nutritional powder. With anti-inflammatory components and a whole lotta fiber, it's safe to say the future duchess found a winning mix.
5. Facial Massages
If you're wondering how Markle always looks so glowy, it's not just due to being head-over-heels in love with a literal prince. It's also because she's been known to get facial massages. And, she said it's the reason her cheekbones and jawline pop so much: "I swear it works. On the days I do it, my cheekbones and jawline are waaaay more sculpted," she says.
6. Twice-A-Day Meditation
Markle has a secret up her sleeve to combat stress: She been known to meditate twice a day—once in the morning for 20 minutes, then again in the afternoon for 20 minutes.
7. Lots Of Running
Markle says she loves running because it allows her to "get out of her head." She's a big fan of the euphoric feeling she gets after working out.
8. Pre-Travel Probiotics
There's a simple way Meghan Markle beats bloat, especially with all the traveling she does: She says taking a high-strain probiotic then chugging some water before her flights, will "keep your gut health in check" and "stave off jet lag."
More From Well + Good:
Moon Juice is Releasing An Adaptogenic Supplement That Wants To Banish Your Stress
How To Make Your Treadmill Runs More Effective
Can Drinking *Wild* Water Help You Stay More Hydrated In Flight?